5 men awarded medals of bravery in Halifax
Selfless action involving ice and burning car rescues honoured by province
November 20, 2014, 10:27 PM AST
Last updated November 20, 2014, 10:27 PM AST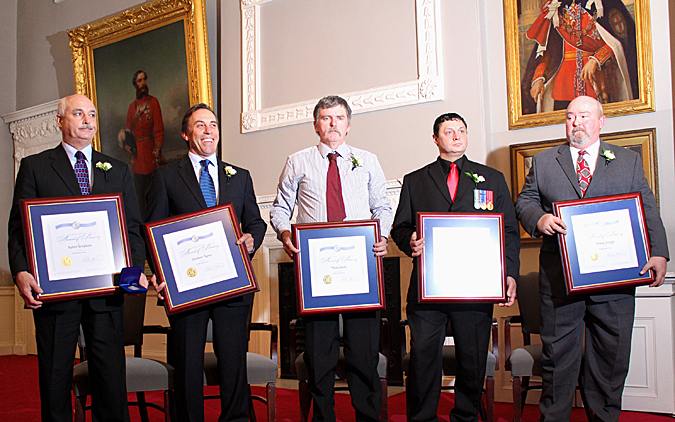 Men who pulled strangers from a frozen lake and a burning car were honoured by the province today for selfless acts of bravery.
Stephen Ross and Keiran Tompkins put themselves on thin ice — literally — to save a young stranger's life. The two were snowshoeing in January towards the Uisage Ban Falls when they stopped to take a photograph and saw Julian Rouleau, 21, slide down a hill and into the icy water like a torpedo.
Wade Smith, David Grandy, and Shawn Hardy were also awarded at the ceremony for their heroic actions in a fiery car crash last September.
The 7th annual Medal of Bravery Award Ceremony was hosted by Justice Minister Lena Metledge Diab at the Province House in Halifax.
"We all know Nova Scotians are special. I'm also very proud that this is our very first year recognizing someone from outside our province with a medal of bravery," she said, referring to Hardy from New Brunswick.
The medals were handed out by Premier Stephen McNeil and navy Vice-Admiral Duncan Miller.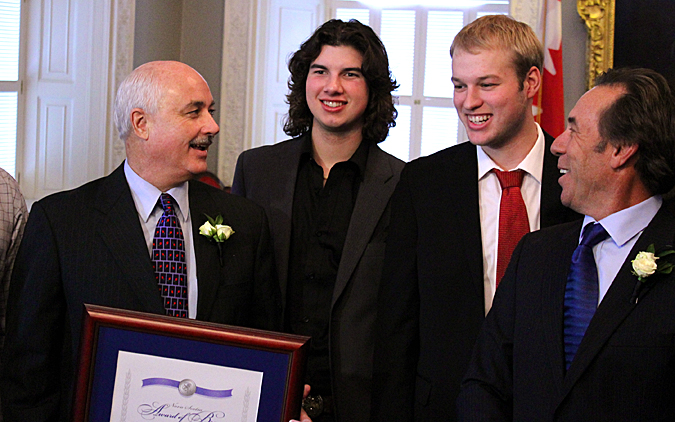 "It looked pretty bleak at the time," said Tompkins, of the ice rescue last January. Quickly, he and Ross went down to see what they could do. The thought of possibly falling through the ice themselves didn't even cross their mind. Unable to reach Rouleau with his arm, Tompkins stuck his snowshoe pole through the ice for the then-stranger to grab onto. Fortunately, Rouleau "had enough still left in him" to grab onto it.
"He was hollering, 'Don't let go of me, don't let me drown, don't let me die'," recalled Tompkins.
Though the incident was a close-call for the young man's life, the three are now able to laugh about it. Tompkins said he surprised Rouleau at work one time and jokingly asked if there was any water underneath the bed of snow he was standing on. They hope to go back to the falls together, hopefully this time without all the ice.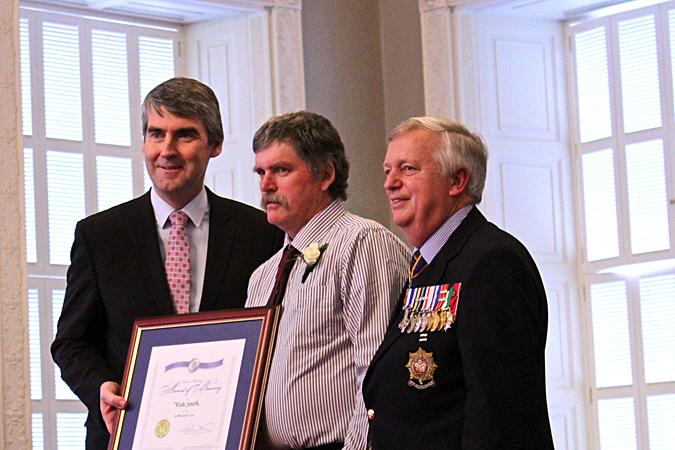 In the other incident, Wade Smith recalled driving to work with his nephew Dillon McMullin in the early hours of the morning last September. The vehicle suddenly struck two horses that ran loose on the highway. Injured and bloodied Smith went to the road where he flagged down Grandy and Hardy who were driving by. Together, they managed to free McMullin from the burning SUV, saving his life.
At the time of the accident Smith's first thought was that they had to get out of the vehicle.
"You couldn't see through steam and smoke," said Smith. " I said to him, 'We better get out of this vehicle', and he was non responsive."
Smith said the event was bittersweet. It brought back a lot of the bad memories from that day, and his nephew is still recovering from the accident. He and his wife are currently looking after McMullin's three-year-old son.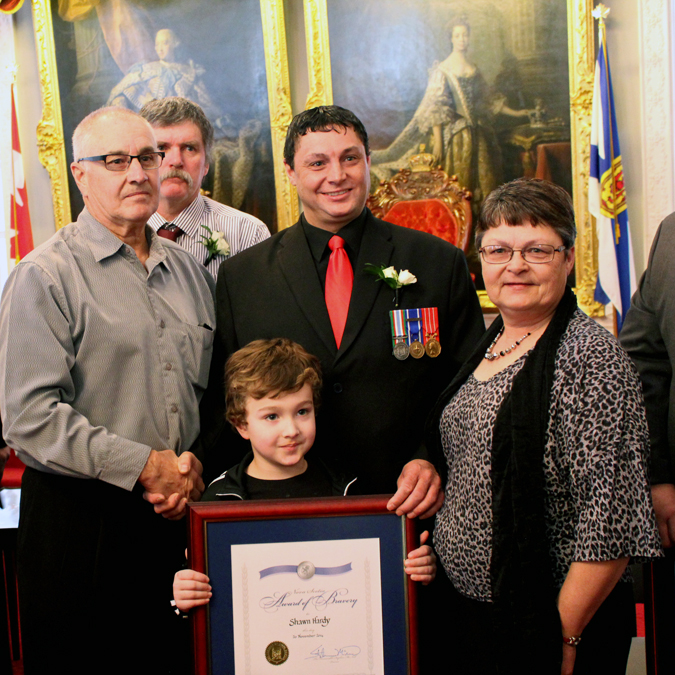 Shawn Hardy is the first ever non-Nova Scotian recipient of the award.
"Our neighbour from New Brunswick was actually headed to Newfoundland to see his son," said McNeil. "It's amazing, in his journey, he stopped to ensure that one of our citizens received the support and care that they required."
"Thankfully, we have everyday heroes all around us."