A 'fabulous' finale to SMU pride week
SMU students crowd pub for Drag Your Heels show
November 24, 2014, 12:31 AM AST
Last updated November 24, 2014, 10:00 PM AST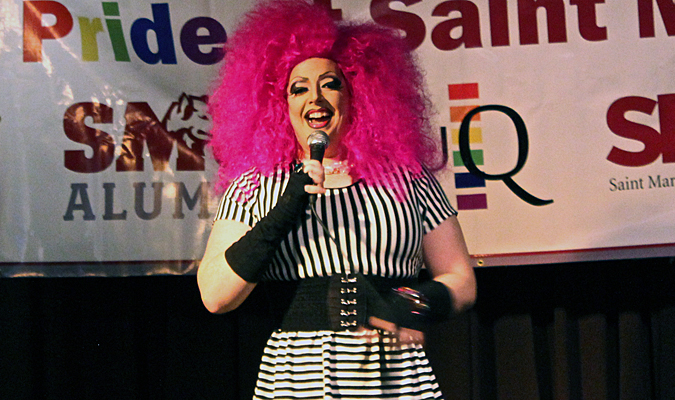 Sequins, wigs and six-inch heels.
This was the dress-code for the performers of the event at Saint Mary's University (SMU), the fourth annual Drag Your Heels show.
More than 100 people filled the Gorsebrook Lounge at SMU to watch the drag show, which wrapped up the school's third annual pride week.
The show, which consisted of both drag queens and kings, had performers lip synching to powerful and upbeat music to the shoulder-to-shoulder crowd in the student pub.
The event was organized by the school's pride council called SMUQ (Saint Mary's University Queers). People in the crowd were singing along and cheering for each and every performer that took the stage.
Drag Your Heels was an open event so anyone could come, not just the hundred or so members of the SMUQ society.
One of the main performers in the show, Fashionista Jones, said SMU has done a great job of making pride week an important date during the fall semester.
"I really think it should be started in other universities," said Jones. "I feel like having events like this opens one's mind and one's heart."
Jones spoke on behalf of the other performers, saying events such as this one are a celebration that is open to people who may not know about drag queen culture. This open-mindedness is something that is important to pride weeks everywhere.
"Honestly my philosophy with drag is that I'm a man in a dress," said Jones' "It's all about entertaining the crowd."
President of SMUQ, Kirsten Paula, wanted to get one thing straight about the name of her organization.
"The 'Q' does stand for queer, but we use that in a way that is the most inclusive that we could possibly be," said Paula.
Traditionally a word that is controversial, Paula said the word 'queer' is now used as a term that is inclusive of all members of the lesbian, gay, bisexual and transgender community.
"It's been reclaimed," said Paula.
There were no SMU students taking part in the performances, but Paula said any amateur performers would surely be welcome to take part.
All proceeds of the show go right back to SMUQ, where they use the funds to prepare for next year's pride week festivities.
SMU's pride week falls at a time long after the traditional pride week, which takes place in the summer. Paula said it's important that SMUQ offers an alternative pride week to ensure all students get to experience it.
"Offering it during the year would be great for students who are possibly international, or don't have pride back home, or for people who might be too nervous to attend their home pride," said Paula.
Paula said this year the feedback for SMUQ pride week has been positive and attendance has been fantastic.