Abandoned cat problem in Wolfville
Wolfville shelter has tightened adoption policy for Acadia students
November 26, 2013, 10:38 AM ADT
Last updated November 27, 2013, 10:27 AM ADT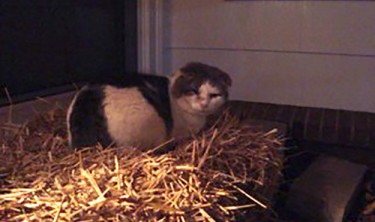 In the past two months, four abandoned cats have been brought into the town's Valley Waag Animal Shelter by landlords. Two of the cats were left behind by local residents, not by students, according to Melanie Haverstock, a receptionist at the shelter.
Haverstock says there have been many instances where landlords will go into an apartment to prepare it for the next tenant only to find that a cat has been left behind.
The number of cats left behind by students prompted the Valley Waag Animal Shelter, a no-kill facility, to put restrictions on student cat adoptions.
Anyone who adopts a cat from the shelter pays a $169 adoption fee. This fee includes a feline leukemia test, vaccinations, Revolution – which protects against a range of parasites – a deworming pill, spaying or neutering, and micro chipping.
Because of the high number of abandoned cats there is always a waiting list for stray cats to be taken in by the shelter to be cared for until they can find a permanent home.
If students under the age of 21 want to adopt a cat from the shelter, they need written consent from their parents and their landlord. Their parents also have to agree, in writing, to care for the cat should their child be unable to do so.
People who rent must also get written consent from their landlords before they can adopt a cat from the shelter.
This, however, hasn't done much to reduce the number of cats who are abandoned.
It seems like many people, students and local residents, are getting around the shelter's rules by adopting cats for free off of sites such as Kijiji and Facebook.
An Acadia student, who got her cat off of Facebook, said another reason students look for pets online is because they are not allowed to have pets in their apartments and would therefore not get written consent from their landlords.
The student says she agrees with the shelter's policy towards letting students adopt, because many students "act on impulse and get a cat without realizing they've just made a 20-year commitment."
Before adopting her cat, the student said she made sure her parents would take the cat temporarily if she were unable to care for it.
Not all students are this responsible.
While students are often blamed for the abandoned cats, it turns out they are only part of the problem.
Connie Hopgood found her cat abandoned in a woodpile at one of her rental properties. Hopgood decided to keep the cat, but this is just one example of felines being left behind.
Adopting a cat off the Internet may be more cost effective, but it also bypasses the shelter's regulations.
It also means that the cat may not be spayed or neutered, which just adds to the burden of strays around town and the shelter is left to care for the abandoned cats regardless of whether it was adopted from there to begin with.