Alcohol policy still being violated
More Pacifico posters surface in Dal's SUB
November 24, 2014, 8:44 PM AST
Last updated December 2, 2014, 4:14 PM AST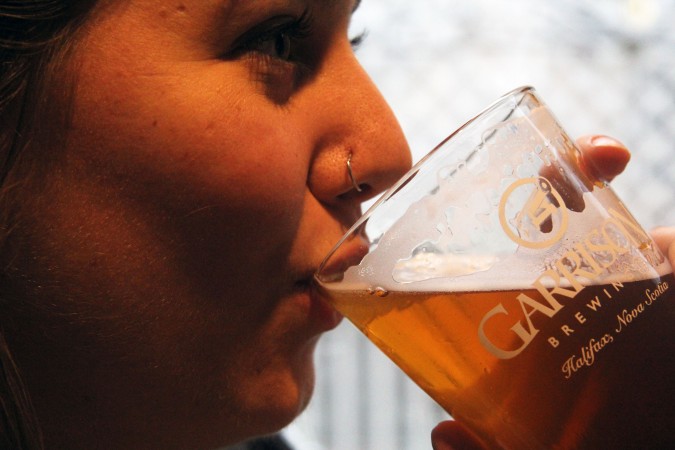 Pacifico posters flaunting cheap drinks on "Student Nite" keep popping up around campus, even after UNews addressed the violation in an article two weeks ago.
The posters advertise cheap drinks — directly breaching Section 4 of Dal's alcohol policy, which bans the advertising of alcohol prices on campus.
The two posters appeared on the billboard beside the Tim Hortons in the Student Union Building Thursday last week.
"Three dollars is really cheap," says MBA student Quang Huynh. "I'm pretty sure if students see that they'll want to go."
"They shouldn't be here. They're not part of the school," he adds.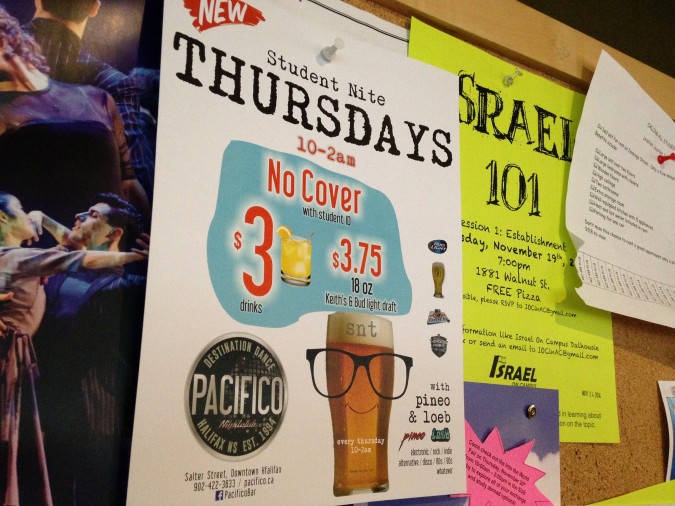 Zane Robison, chair of the university's alcohol advisory committee and executive director of student life, says he hadn't gotten around to contacting Pacifico since the issue was first brought up, but if Pacifico continues putting up posters on campus, a legal team will have to get involved.
"My impression is that they don't want to really break our rules because then they would just be spending money on posters that just would get taken down all the time," Robison says.
Since Dal was notified of the posters, Robison says they've been removed and Pacifico has been contacted.
"We are enforcing the policy as far as we're concerned," he says.
How the policy extends online
Robison says the alcohol policy's extension to the online realm is a bit of "a grey area."
"If the spirit or the intent of a policy is broken online, then we would have to address it," he says.
Robison says establishments affiliated with the university, such as the Grawood, are not permitted to advertise prices on social media.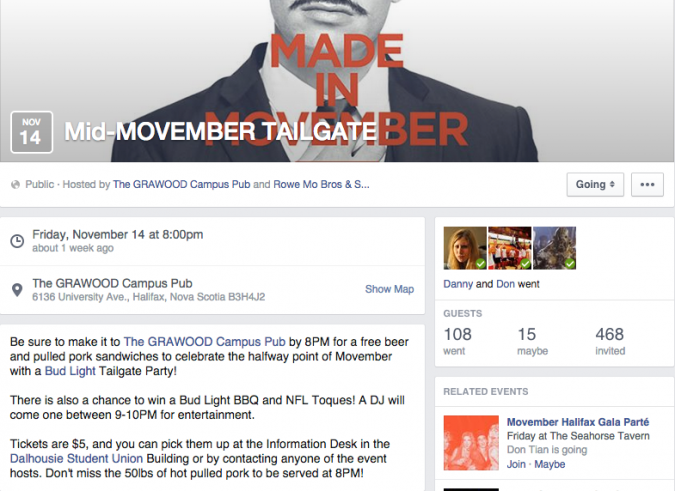 However, this mid-Movember Bud Light tailgate event "hosted by" the Grawood in association with the Rowe Mo Bros and Sistas Movember fundraising initiative would appear to violate Dal's alcohol policy. In addition, the Mo Bros & Sistas are part of Movember Canada, which recently funded Dalhousie's Caring Campus Initiative. Dal News reports the initiative "aims to reduce alcohol and drug misuse among first-year university students, particularly males."
The policy does not cover bars off-campus using the university hashtag or even mention the online community.
Getting excited for our new Thursday student nights! #dal #smu #msvu #happyhour #halifax

— Pacifico Nightclub (@PacificoClub) October 22, 2021
"We are exploring that in the improvements to the policy to elaborate on what it means for online," says Robison.
Dalhousie law professor Michael Deturbide says if Pacifico continues putting up posters when Dal told them to stop, they're trespassing.
"It would be like if they came and posted something in your backyard and you told them not to," he says.
Deturbide says the law covers the online world the same way it does on campus. So if a company such as Pacifico is using #Dalhousie in a way the university doesn't approve, the university has every right to tell them to take it down.
"It's not trespassing per se because they're not coming onto your property […] but they're using Dalhousie's name in a way Dalhousie doesn't want it to be used."
"If they're imitating Dalhousie in some way and Dalhousie hasn't given their consent, then they have to take it off," he adds.