'Art boat' being built by and for the community
Non-profit foundation aiming to demystify the trade of boat-building and make art more accessible
January 17, 2014, 9:49 PM AST
Last updated January 20, 2014, 9:33 AM AST
At the Halifax waterfront, in a shed behind the Maritime Museum, a group of volunteers is building a wooden scow boat just for the city.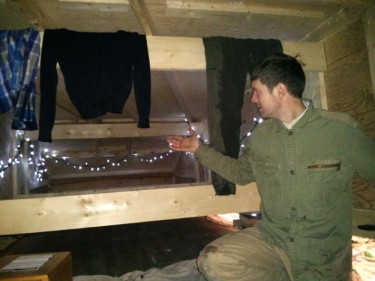 Except this boat won't be carrying cargo. Set to launch on April 14, the Halifax Art Boat is a vessel for public art exhibits, performances, and during the off season, a place to live for artists in residence.
The boat is 24 feet by eight feet. Since Dec. 13, volunteers have already completed its hull. It will be large enough to carry 10,000 pounds: that's up to 20 people on board for an art exhibit, four people sleeping in hammocks during the off-season, and two people living in the boat (with a stove and toilet installed) for an entire school semester.
Anyone can join in on the boat-building process at any time, whether they've had construction experience or not.
"So few people have the chance of seeing a handcraft boat being built," says Daniel Collins, one of the project's founders. He's there a few times a week. "It's not always this mysterious art. We want to show that it's in the reach of everyone."
As part of the project's mandate to educate, the Halifax Art Boat Project hosts youth art and education workshops. Its most recent workshop involved building and painting smaller models of the boat while overseeing the actual boat as it went through the first stages of construction. There was also a hands-on option, where people learn how to use power drills, screw drivers, and so on.
"There's everything from self-education to guided arts to professional training. And I think that's pretty representative of the kinds of things we want to offer," says Collins. Although it's a youth-aimed program, volunteers of all ages are welcome. "We have people from earlier than elementary school all the way up to grandparents."
Each weekend from 1-5 p.m., a group of 10-20 people show up; at least one-third of the group are new volunteers. During the weekdays, from Wednesday to Friday afternoons, anywhere between four to eight people show up.
Surprisingly, most of the volunteers are women – a reversal of the traditionally male boatbuilding trade Collins is happy to support. Part of the reason, he says, might be in the project's name: it's an art project, not a construction site.
Kate Romain, a busker at the Halifax Seaport Market, says it's her first time building a boat. She heard about the project through friends.
Romain and her bandmate, Richard Driedger, are painting coats of epoxy, to keep the wood and nails from rusting, on the underside of the boat's hull. But the coat dries fast and there's lots of surface to cover.
"Should've done this yesterday," she says as she pops off a gunk of dried epoxy from a bucket. The volunteers make sure this plastic-like material is as environment friendly as possible; even the solvents they're using are just regular alcohol.
"Oh well, learning experience," she says.
The Halifax Art Boat Project is entirely volunteer-based, funded by donations and government grants. No one is paid. Although there's a core group of people who show up during the week, there's no formal structure. It's a boat for the community, made by the community.