Art students ponder the icons of business
The Ergonomicon is a satirical art exhibit reflecting the corporate world and its penchant for technology
November 28, 2013, 11:18 AM ADT
Last updated November 29, 2013, 12:23 PM ADT
A Bluetooth headset device, a miniature copy of The 7 Habits of Highly Effective People and a golf club spray-painted in gold are among myriad objects that sit together on a plinth in the middle of Park Lane mall in downtown Halifax.
To many, this collection of objects may appear strange and without a purpose. But once passersby stop to study the objects closely as a collective whole, the meaning begins to take form.
To David Constable, Andrew Rhodenizer and Bryson Chisholm — all students in professor Bruce Barber's Media Landscapes course at the Nova Scotia College of Art & Design — these objects come together as "The Ergonomicon."
What is The Ergonomicon? For Rhodenizer, it's an homage to the modern businessman. For Constable, a "tautology of business dynamics." For Chisholm, simply "rude satire."
Check out these photos of the exhibit: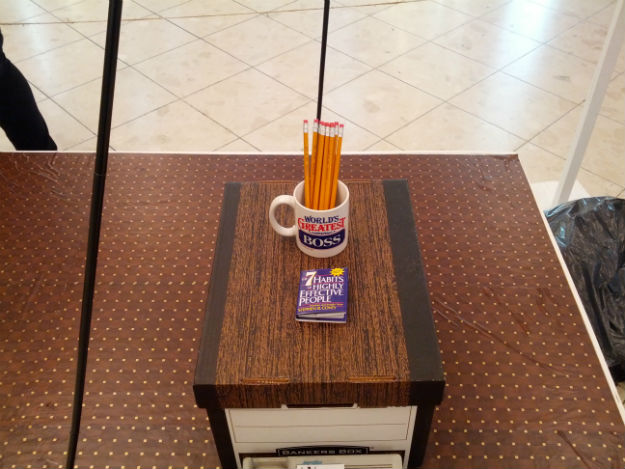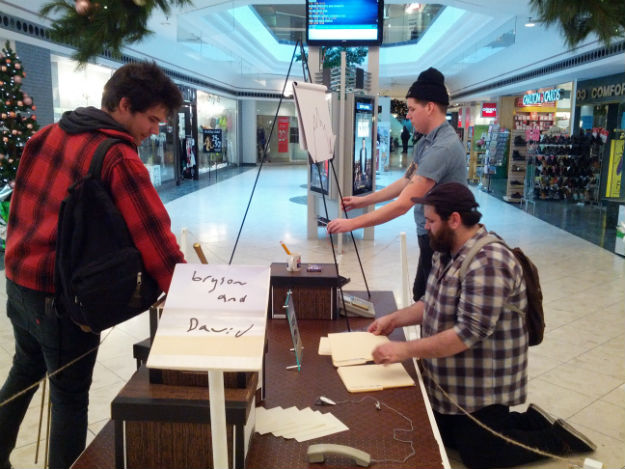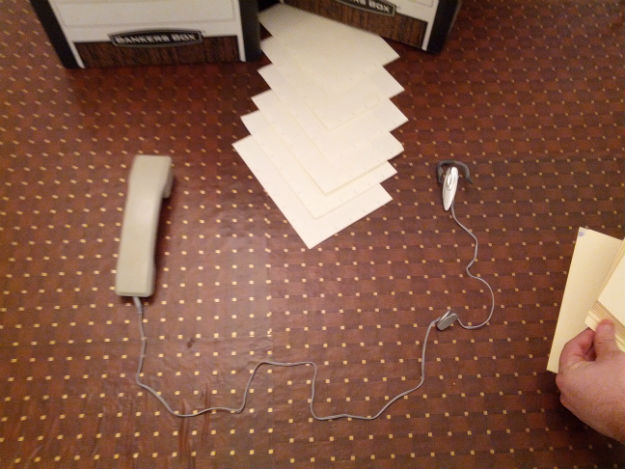 The course focuses on the idea of "media landscape" and the students have been investigating the effects of mass media on their own and others' lives, and the relationship between mass media and art.
The Ergonomicon was originally supposed to be in Scotia Square but at the last minute the group had to relocate to the Park Lane site.
"We had composed this piece based on our target audience over there — around Scotia Square — which would have been general corporate office people. We had our idea in mind before we were moved," said Chisholm.
Scott Saunders, a local artist and also a graduate from NSCAD, provided Barber and his students with the exhibition space at Park Lane and Scotia Square. Saunders had been showing his own works at the locations earlier this year but he often helps other artists' out by lending the space to them.
"It's just my way of giving back to younger students and giving them that great opportunity," said Saunders.
The projects are also a form of littoral art — a term often used by Barber himself which emphasizes the interaction between artists and their audience. Some people walked by the collection of objects without so much as a glance as they clicked away at the buttons on their smartphones — completely invested in technology and completely oblivious to the art surrounding them.
But the project did grab the interest of a few. One man paused to comment on the piece and revealed his first impression of the exhibit and the thoughts it channeled in his mind.
"I imagine an executive who has a passion for golf. So in his office he has paraphernalia for golf and he's also a boss. That's what primarily stood out for me," said David Ferguson, a pharmacist from Cape Breton who works for his own small company — Ferguson's Pharmacy Ltd.
Besides the headset, the golf club and The 7 Habits of Highly Effective People, the exhibit included these other technological pieces and office equipment:
A BlackBerry painted in gold to denote the "status of these corporate heads"
A small loaf of chocolate chip bread (also painted in gold)
Bankers boxes
A landline phone
Files containing papers
Chart paper with a graph drawn on it
A 'Free WiFi' sign
Pencils in a 'World's Greatest Boss' coffee mug
Chisholm said he expects the piece will attract further attention.
"It provides a catalyst for introspection into what it means to live in today's media enriched society— the age we live in," added Constable. "The days of our lives, if you will."
The Ergonomicon will be displayed on the Park Lane plinth until the end of this week.
On Dec. 2, the class will be exhibiting their works at The Khyber Centre for the Arts. More information can be found on the Facebook event page.