Author Finkelstein criticizes Israeli action in Gaza
Norman Finkelstein, a high-profile critic of Israeli policy, urged action on "massacres" in Gaza during public lecture at SMU
November 5, 2014, 1:09 PM AST
Last updated November 21, 2014, 12:26 AM AST
Norman Finkelstein, a controversial critic of Israel, urged people to take action against the Gaza blockade at a packed auditorium at Saint Mary's University Tuesday night.
Finkelstein talked at length about the Israeli ground invasion of Gaza earlier this year, in which more than 2,150 Palestinians were killed, according to the UN.
Calling the Israeli offensive "massacres," Finkelstein likened Israel to the American South before desegregation.
He urged people in the audience to encircle the UN building in New York to raise awareness about the blockade of Gaza
Finkelstein called UN chief Ban Ki-moon a "puppet" of the United States, blaming him for inaction during Israel's ground invasion of Gaza, to which the audience erupted in raucous applause.
Magi Abdul Masih, an associate professor of religious studies at Saint Mary's University, introduced Finkelstein as a "fearless fighter who speaks truth to power."
Security had to turn away more than 20 people because the 400-seat auditorium was at capacity.
Maja Kokic arrived early to have her book signed by Finkelstein. She said she was alarmed by the Canadian government's blind support for Israel.
"I'm concerned that the Canadian government has made it illegal to speak out against Israel, she said, referring to concerns among anti-Israel groups that the government is criminalizing criticism of Israel.
Activism
The event was sponsored by Canadians, Arabs and Jews for a Just Peace in conjunction with Independent Jewish Voices, a national human rights organization.
Finkelstein was detained at Ben-Gurion International Airport in Tel Aviv and banned from entering Israel in 2008. Israeli security suspected him of hostile actions in Lebanon and put him on a flight to Amsterdam, his point of departure.
Finkelstein said that global outcry against Israel's actions is underscored by high turnouts and passionate audiences at his lectures, even in places like Halifax.
"I expected there would be 20 people, I'm absolutely astonished how many people showed up."
Larry Haiven, a professor at Saint Mary's Sobey School of Business, said the university allowed the auditorium to be used free of charge for the event. He helped organize the event.
Finkelstein also promoted his latest book "Method and Madness: The Hidden Story of Israel's Assaults on Gaza," which was available for purchase in the foyer.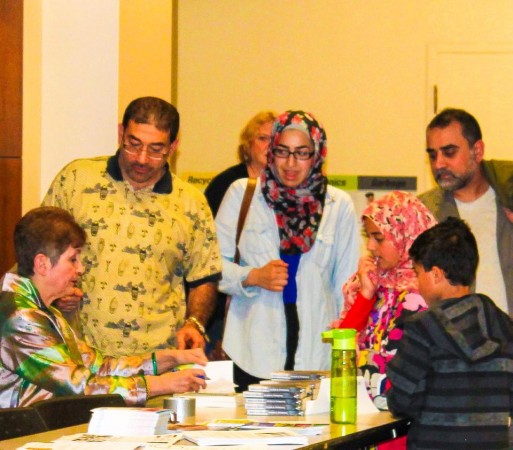 In 2007, Finkelstein was embroiled in a public spat against Harvard Law professor Alan Dershowitz and was also denied tenure at Chicago's DePaul University. Supporters of Finkelstein allege that the university's decision was politically motivated because of Finkelstein's scathing criticism of Israel.
His last visit to Halifax was in 2002.