Supports lacking for students on autism spectrum
Universities must address more than academic challenges, experts argue
November 28, 2013, 4:04 AM AST
Last updated November 28, 2013, 5:46 PM AST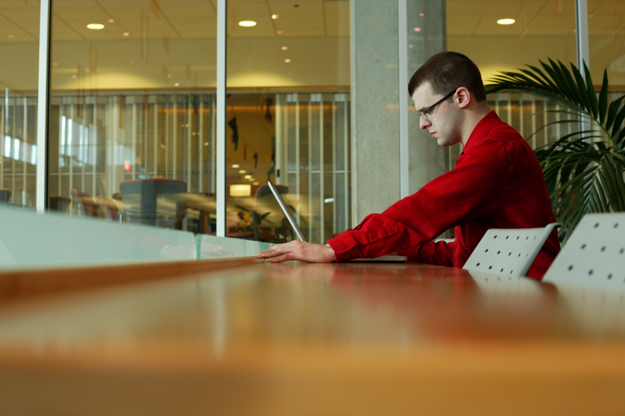 Upon first applying for the radio and television arts program nearly two years ago, Alex Kronstein was turned away. Instructors at the Nova Scotia Community College said he lacked the social skills needed to succeed in the broadcast business, but Kronstein wasn't convinced.
"My parents and myself both thought I was on the autism spectrum for many years, but, of course, I grew up in a time when autism was not very well known or understood," Kronstein says.
The school didn't conduct a formal assessment of Kronstein when he first applied, so he met with instructors to explain his hunch. They suggested he undergo a psychological assessment, which would influence the school's decision on his admission.
Two years later Kronstein has been diagnosed with Asperger's syndrome and requires no additional support in his classes. Although he struggles with matters of social reciprocity, with understanding what other people feel and need, he says he's doing "very well" academically.
For some students with Autism Spectrum Disorder (ASD), simple distractions — fluorescent lights, chatty neighbours, the Facebook-browsing student three rows ahead — can quickly become cause for sensory overloads.
In many cases, according to the Canadian Mental Health Organization's Michael Price, universities and colleges aren't properly equipped to address the more nuanced social challenges of being a student with ASD.
Autism is characterized by developmental disabilities caused by brain abnormalities. A person with autism typically has difficulty with social and communication skills. ASD is a wide-spectrum disorder, which means no two people with autism will have the exact same symptoms.
University gaps
The lack of proper supports pointed out by Price are borne out in the findings of a comprehensive 2009 study undertaken by the Higher Education Quality Council of Ontario. The study analyzed emerging trends in students transitioning from high school to post-secondary level in Ontario. It found glaring gaps in what experts deemed necessary support networks connecting the two.
Within the context of modern ASD training, "support" connotes students learning how to manage their own tasks, rather than having someone do it for them.
High schools employ educators versed in such an approach, the study found, but universities generally do not. Additionally, training to help navigate the needs of an ASD student was optional for university professors, but mandatory for high school instructors.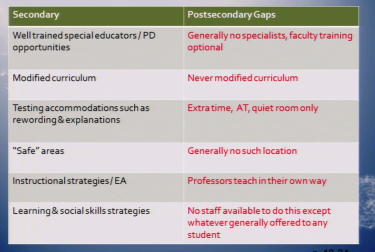 A common difficulty faced by ASD students is the need to break down the learning process into predictable steps and develop a routine-based approach. For this reason, one-on-one learning strategies for time-management and organizational skills are fundamental to an ASD student's learning. The study found a major gap in post-secondary institutions' means of delivering such strategies.
At Dalhousie University, students with ASD and other mental health issues can choose to make use of the accessibility services centre. Though the centre helps students deal with academic challenges, it doesn't offer many supports for social and communicative difficulties.
Building the norm
Shannon Johnson, a psychology professor at Dalhousie, is spearheading a pilot project to address the lack of resources for ASD students at the university. The group will work on building not only basic social skills, but also healthy practices around dating, sexuality and establishing relationships.
"The social component is more than half of the program. I think that's what these individuals are going to need more of and what they're going to be wanting more of," Johnson says.
Price is regularly hired by universities to conduct informal psychological assessments on students transitioning from high school. The profile captures academic-related aptitudes an individual may have, such as a strength in history over math. But in terms of social challenges, the assessment falls short, he says, which can lead to problems down the road.
"Several times I've been called into serious harassment situations and then when I talk it through with the guy, he was like 'I don't know how to meet girls and there's a pretty girl and I look at her,'" Price said.
Without an understanding of basic social cues, a guy with ASD might never know how threatening such actions can be for a girl. Treating people with autism like normal people, rather than, for instance, pretending they don't have sexual needs, Price said, is one of those simple, yet fundamental elements of improving an autistic student's social life at college.
Price will often find parents wanting full-time aid workers in universities and colleges, but he disagrees with the approach.
Instead, he advocates for self-management groups at all post-secondary institutions, in which trained workers counsel ASD students on understanding the social norms of university and college life. The Ontario study found regular meetings of such groups were among the most successful practices for post-secondary students.
Between 2009-2011 the number of ASD students in Ontario colleges tripled from 400 to 1,200, while universities increased their numbers fivefold from roughly 200 to just under 1,000.
At Dalhousie, only four students identified as being on the spectrum in the 2013-2014 academic year, according to accessibility services. However, students aren't required to disclose ASD at the time of admission, so the figure is likely low.
Meanwhile, NSCC had 26 students who identified upon enrolling in the current year.
Getting ahead
Kronstein says he feels included in social affairs at NSCC. He's the current radio and television arts representative for the student council and a volunteer with Eastlink. He explains the functions of a TV "switcher" by demonstrating with his hands how to fade between frames. Both his parents have experience working in media.
Kronstein's professional promise bucks a trend revealed in studies published in the journal Autism, which show only a third of people with ASD in the United States are employed.
One of the Ontario study's major recommendations was to establish programs of professional development tailored for ASD students. At the time of the study's release, in 2011, these were surfacing in schools throughout Ontario, but only gradually.
With a lack of such supports in Canadian universities, a capable ASD student's chances of graduating and gaining employment are greatly diminished. The loss impacts individuals, families and the economy.
Across Canada, according to Johnson, there's a higher dropout rate among students with ASD, something she hopes can be improved with working groups like the one planned for Dalhousie.
Funding for the working group has not yet been approved.