Black Friday busy, but orderly
Halifax shoppers say U.S. sale-day chaos wasn't evident here
November 30, 2013, 7:44 PM AST
Last updated December 2, 2013, 8:20 PM AST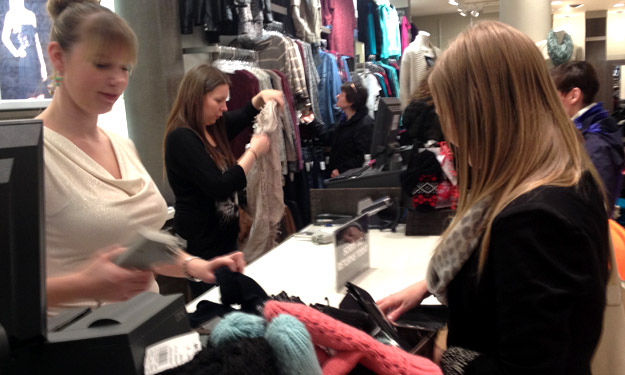 The Halifax Shopping Centre was packed on Friday as shoppers went out to discover what the Canadian edition of "Black Friday" had to offer.
It wasn't alone. Target opened its doors in Canada this fall, making Friday the store's first Black Friday in the country. Known for being hectic in the U.S., its Bayers Lake location boasted a line prior to opening, but by afternoon did not live up to the crazy image some customers were expecting.
"I didn't really want to come out," said Kevin Barnes. "But it's not very busy at all!"
The fact that it isn't as wild doesn't mean that Black Friday in the Halifax area wasn't busy.
"It took me a solid 15 minutes just to find a parking space," said Sarah Mahaney, who decided to try her luck at the Halifax Shopping Centre mid-afternoon. "But when I got inside, the lines in the stores weren't nearly as bad as the ones in the (parking) lot."
Black Friday, the day after American Thanksgiving, has been considered the busiest shopping day of the year in the U.S. for years, though it originated in the 1960s. The unofficial start to the holiday shopping season, it is marked with dramatic retail sales and early lineups as shoppers forgo a good night's rest in order to get what they want at a bargain.
Canadian Black Friday, however, is a much newer tradition, and one that some people aren't sure can live up to its American cousin.
"Based on the fact that I saw ads for stores opening at 9 a.m., I'm gonna say no," said Kerry Costello, when asked if the Canadian Black Friday was likely to live up to the reputation of its American counterpart.
An American, Costello typically avoids the stores on Black Friday.
"It gets a little crazy," Costello laughed, before going on to describe pre-dawn lineups and crazed parents trying to find the year's "must have" toy at a bargain.
Mahaney agrees that Black Friday in Canada is a calmer event than the American version, which, in 2008, caused a deadly stampede. "Everyone was very calm and polite. The people (workers) I talked to said that they were busy but it just made the day go by faster."
Many of the Halifax Shopping Centre's stores offered deals of 20 per cent, 30 per cent and more to customers — but the so-called "Black Friday" sale is running all weekend with extended shopping hours.