Black youth programs need 'better promotion': speakers
Two groundbreaking black Nova Scotia women discuss their educational success and the challenges facing black students seeking higher education.
February 9, 2014, 8:27 PM AST
Last updated February 11, 2014, 5:44 PM AST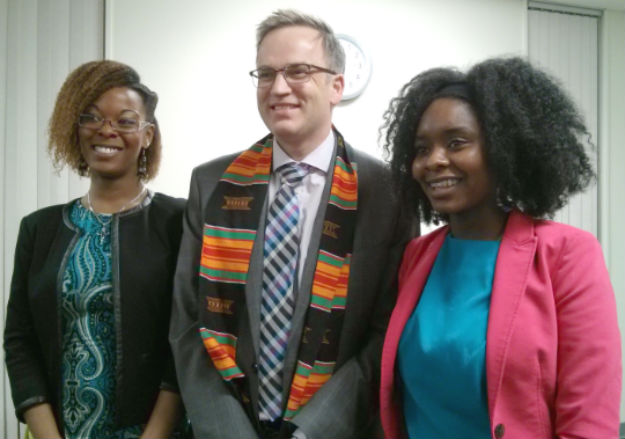 In one year, Shalyn Williams was the only applicant for a scholarship made specifically for African Nova Scotians—the Guru Nanak Scholarship, an award of $1,000 per year. 
"People don't hear about it, and that tends to be a big issue with a lot of black events we have. They just don't hear about (events) until they're done. Those programs are huge and definitely beneficial to our youth."
Williams, Dalhousie's first Haligonian black woman to graduate with an electrical engineering degree, was one of two groundbreaking African Nova Scotian women spoke to an audience of more than 60 people last Thursday at the Student Union Building. She told the audience—at least a third of whom were students in high school and university—they have to seek out their path to success.
"I don't believe for a second I'm the first African Nova Scotian female who wanted to be an engineer. That's unlikely… I'm just the one who made it through, next. We've gotta keep encouraging our youth to do all those other things," she urged.
According to a 2006 census by Statistics Canada, only 63 per cent of African Nova Scotians hold a certificate, diploma, or degree compared to the 73 per cent of all Nova Scotians. For many, this is unsurprising: low incomes can make paying university fees difficult and, as of 2006, the average African Nova Scotia income was $30,192 for women and $38,838 for men. The provincial average, on the other hand, is $35,898 for women and $49,465 for men.
But this shouldn't deter black students from seeking higher education.
Williams told mentors to reach out using social networks such as Facebook, speak at schools and hang signs around the neighbourhood. Her own mother pushed her into numerous math, science, and black empowerment programs when she was young.
"I still don't know how my mother heard about all those camps I went to," she said.
The second speaker at the event was Habiba Cooper-Diallo, a Grade 12 student who started a non-profit for African women's health when she was 16.
Cooper-Diallo told the audience they have to find a support network.
"You have to find a group of like-minded friends who'll encourage you, and will be with you along the way."
Cooper-Diallo found passion in spreading awareness about the one million African women suffering from obstetric fistula, a condition in which a woman's vagina is blocked during labour, causing the infant to create a hole elsewhere.  She found support through friends and family, but she also gave a shoutout to local programs, such as the Imhotep Legacy Academy, dedicated to helping black students achieve academic success.
Still, Cooper-Diallo is dismayed to report that at West Halifax High School, she is one of only two black students enrolled in the International Baccalaureate program in her year.
"I was told when I first started school that our African student population isn't large enough to have a support worker," she said.
"We used to have an African-Canadian study program at the West, before I got there. It's been cut, due to funding issues."
She also spoke about cultural barriers in school that stop black students from feeling like they're part of the student body.
"My culture is denied to me in school," she explained. "We've experienced so much epistemic violence as black students…we're never represented in the textbooks, whether it's biology or history…We never hear anything about the contributions of the black soliders in Nova Scotia in [the First] World War or [the Second] World War."
Cooper-Diallo suggested societies such as the Black Educators' Association "agitate and advocate" for the Nova Scotia School Boards Association to train teachers on cultural competency so they can engage with black students better. In doing so, they can build a space where black students "feel like (they) belong."
Services for African Nova Scotian students
 If you're an African Nova Scotian looking for academic or financial support, try getting in touch with these organizations for advice.