Blurred lines surrounding role of TAs
Neuro-psych students do work similar to that of TAs, but without payment – a method that may be adopted by other departments
December 4, 2013, 3:20 PM AST
Last updated January 13, 2014, 11:47 PM AST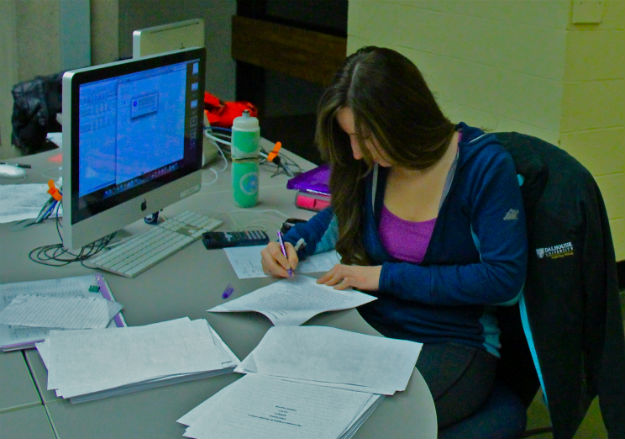 Maggie McCann, a third-year student in Dalhousie's Advanced General Psychology 3010, does much of her coursework in another class. She teaches a lab section of the first-year course Introduction to Psychology and Neuroscience – a class with 1,000 students.
She's one of 40 students in 3010 who created course material, and teaches a 50-minute lab every two weeks to typically 26 students — marking assignments and establishing grade rubrics in addition to attending two hours of lectures every week.
But Leanne Stevens, the instructor of this course in the Psychology and Neuroscience department at Dalhousie as of July emphatically states: "they aren't TAs."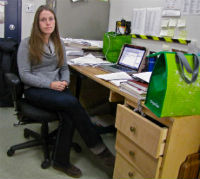 "We call them TAs because it's a short easy thing to say but we don't equate the two," she said.
It's something McCann is OK with.
"I don't personally mind too much because I think that being a TA is a really big responsibility and I think someday I'd like to become an official TA as a job. And I think that having any kind of experience that helps me learn to do that more effectively is valuable," she said.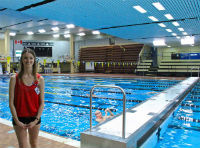 Megan Thompson, a fourth-year neuro-student also enrolled in 3010 isn't of the same mindset.
"As much as I enjoy the class it would be nice to be compensated," she says.
People are surprised when they find out that she doesn't get paid, she says.
"I understand that it might not be completely feasible because there are so many students but at the same time I still think it comes down to respect."
She feels like she walks a thin line in her position.
"Who am I a student to? Who am I a TA to?" she asks. "What my responsibilities are and how others view my responsibilities as well are blurred."
CUPE 3912's last collective agreement states that a teaching assistant is: "an employee hired to assist an instructor in the presentation and delivery of a course," who is also involved in activities such as marking, tutoring and monitoring labs.
"In a TAship an instructor would actually be giving you a stack of stuff and telling you to go do it. My students are actually taking an active role in what's the best method to present this (material) to these students, so they build it from the ground up," said Stevens.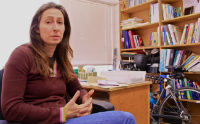 Jennifer Stamp who teaches three different versions of first-year psychology, including the class taught by these "TAs", says, "They're learning what they'll have to do as a paid clinician."
She envies the class time the students have to learn different pedagogical tools, saying, "as professors we get zero training in teaching whatsoever and it's kind of crazy because between 30 and 40 per cent of a professor's job is teaching."
Stamp says the students are in no way taking jobs that would go to actual TAs.
"It's not like if we didn't have this course we'd hire a bunch of TAs," said Stamp.
This scientific communication class may have its practice used in other courses by next fall.
Tim Juckes, a professor who teaches Science 1111 may take up this style of education for his own course. He hopes his class will be an opportunity for third year students to gain experience for grad school.
"It will be an attempt to understand communicating science information processing; an opportunity to learn by interaction," he said.
But the blurred lines surrounding what a TA does at Dal, do not stop here
Dalhousie does not differentiate enough between the role of TA and that of a marker.
Christina Behme works as a part-time faculty member in Dalhousie's philosophy department but she's also the vice-president of the CUPE local and represents teaching assistants at Dalhousie.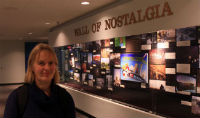 She brought forward the issue at the CUPE general meeting on Friday.
"People have been contacting us because they have to do the same amount of work and the same kind of work and be paid as a demonstrator as people that are being paid as TAs," she said.
A TA makes substantially more money than that of a marker or demonstrator — the equivalent of seven or eight more dollars per hour.
"They have been fighting the employers for years for a specific definition of what TAs do and what a marker is doing," she said.
"We are trying to get the university to commit to clear guidelines of what a marker has to do and what a TA has to do."
The reason why there haven't been more complaints?
"Most of the TAs and markers are graduate students who depend on their supervisor to write their letter of recommendation so they are more than happy to work more than they have to," Behme says.
Dalhousie's director of academic staff relations, who usually deals with these types of issues is on parental leave and was unavailable to comment.
"It's a problem that has been longstanding," said Behme. "Professors have been told 'you only have that much money available so you have to make it work so instead of hiring TAs we're just hiring markers.'"