Board game culture becoming a 'social experience'
With board games increasing in popularity, businesses try to match the trend
November 13, 2014, 10:48 PM ADT
Last updated November 14, 2014, 9:29 PM ADT
This story has been updated since initially published.
On Thursday night Nik Taylor and Shivangi Kaushik spent the evening trying to escape an island before it sank or they risked being eaten by sharks.
They were playing "Survive: Escape from Atlantis!", one of the many board games offered at the Board Room Game Cafe on Barrington Street.
Taylor and Kaushik have both been playing board games from a very young age. "I lived with my grandparents so we just started with easier card games and stuff," Kaushki says. "Then ever since I met him [Taylor], it got a lot more complicated."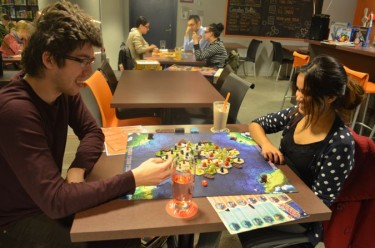 Kaushik and Taylor are regulars at the Board Room Game Cafe. Taylor says the game selection keeps them coming back.
"You can try anything you want," he says, "If there's any game you don't know then there are people here you can teach you so it's great."
Most of the tables were full at the Board Room Game Cafe Thursday evening. General manager Jon Paul Decosse says most nights are like that – especially Friday and Saturday.
"The place fills up," Decosse says. "Sometimes the wait can be two or three hours to get in."
The Board Room Game Cafe has plans to combat its busy nights. It is in the midst of adding an additional room to the space, which would include an extra 50 seats.
Growing trends
Board games have been a spreading trend in Halifax and across North America over the last 10 years due to the influx of European board games. Decosse says board games have progressed since the 1970s and '80s.
"It's no longer just Monopoly. It's not just rolling dice and moving your piece the number of spaces you rolled and do the thing that you landed on," he says. "It's so many other things. It's a social experience, it can be a dexterity experience, it can be a strategic experience."
The Board Room Game Cafe opened on Barrington Street in October 2013. The café offers customers a chance to come in and choose from a huge library of games to try while sipping on a coffee or beer.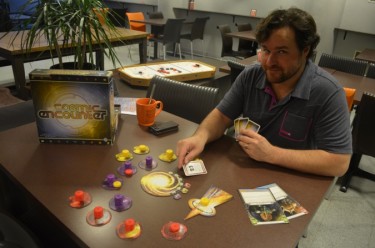 "We feel happy and comfortable," Decosse says, "like we've been here a long time but it's just been a year."
When the Board Room Game Cafe opened its doors last fall, the aim was to bring the growing trend of board game cafes to Halifax and mix it with coffee, beer, and snacks.
"It's all about the board game experience," Decosse says. "It's the face-to-face experience. We're a culture that loves our games."
Older businesses stepping up
An older business, Quantum Frontier, opened as a comic shop in 2009 but is rapidly expanding to incorporate more board games with the creation of Cafe42. Three months ago Quantum Frontier moved a couple of blocks up to a new, larger location on Robie Street. Patrick McMerty, owner of Quantum Frontier, says he wanted to take the business to "a new level" by opening a board game café in the new space. Cafe42 will host a large board game collection for customers to choose from, a kitchen for snacks, and a milkshake and float bar.
McMerty says business has changed from when he opened in 2009.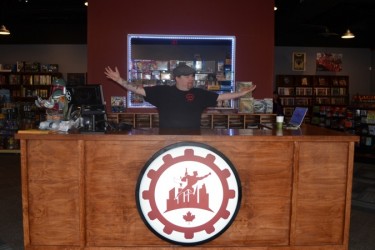 In 2009 "we were still not socially accepted genre. Geeks were still a little bit on the outside," he says.
McMerty credits superhero movies for changing public opinion on comic books and geek culture in general.
"When the Iron Man movie came out it changed everyone's perspective on comic books almost overnight," he says. "Then it just snowballed after that."
This snowball effect has allowed other businesses to enter the board game and trading card game market. This January will mark two years that Games People Play has been in business as a gaming space and retailer on Barrington Street.
"The initial purpose was to actually be a social engagement location where people could come out, at no cost," Joseph Allen, co-owner of Games People Play says, "to play board games, trading card games, and just hang out and be more interactive outside of their homes."
New location, bigger market
Allen says that about 5,000 people walk by the establishment every day and that foot traffic helps the business. Another market for their business is students.
"When the summer time comes you have all your students come home from school and then you have thousands return."
The change of students coming home for the summer and the students coming for school in the fall "always keeps everything refreshing," Allen says.
Games People Play has been operating from its 1,200 square foot location on Barrington Street but they are now planning on moving to a larger space on Blowers Street in the next three to four months. "We've kind of out-grown the space we're in now," Allen says.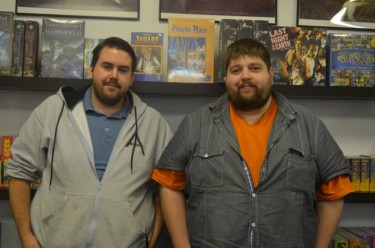 As Games People Play grows, Allen is also excited to see other business grow. "A rising tide floats all boats," he says. "The more growth in this type of business world just means we're able to offer customers more opportunity."
Update: The name of the board game Survivor corrected to "Survive: Escape from Atlantis!"