Breaking down gender barriers in tech
Event mixes tech skills with entrepreneurial ambitions
November 19, 2014, 5:12 PM AST
Last updated November 19, 2014, 5:12 PM AST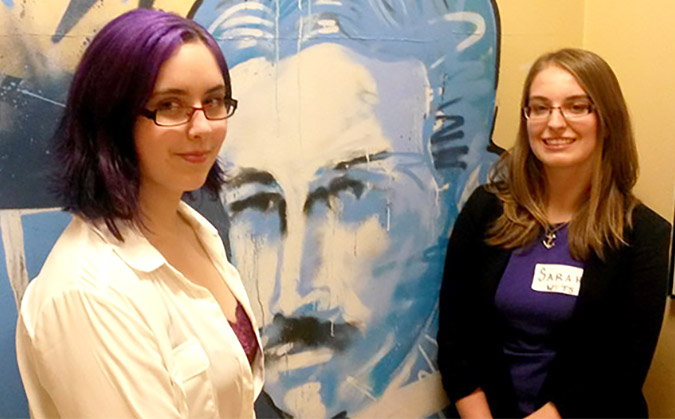 As a first-year  computer science student, Caleidgh Bayer knows that the field is still dominated by men. Her classes at Dalhousie University are still predominantly filled by men.
"My first-year computer science lectures are anywhere from 150 to 200 kids each. There are maybe 10 girls," Bayer explains.
Throughout school she was in science and robot camps. When it came to university, Bayer knew she would major in computer science. Her programing class in high school consisted mostly of guys, but the teacher was a woman. Bayer credits this teacher with inspiring her to go to computer science at Dalhousie, but the classes are still dominated by men.
That's in part why Bayer was at Volta Labs for We Build Tech, an event sponsored by Dalhousie University's Women in Technology Society. She's has been a member of WiTS since September.
Presenting on tech
Around 40 people had gathered after hours on Tuesday night on the third floor of Volta's office on Spring Garden Road for the WiTS event.
The event organized by WiTS co-president Sarah Morash and vice-president Brittany Kelly. The world of technology can be a difficult place for a woman to inhabit, where men are not all that willing to share the space. WiTS is there to promote women in the technology field and support them.
WiTS is also involved with the community, where they promote education, with initiatives such as  Ladies Learning Code and Girls Learning Code. It's about getting the message out that technology fields is a viable career and OK to be a girl and like technology.
Kelly says that joining WiTS is a way for female students to meet one another.
"We don't have as many women around and we want to have more friends. It's a really great opportunity to meet other women you might not meet in classes," she says.
For two hours of We Build Tech, the audience watched presentations from those in the tech industry and the opportunities that are out there:
Mae L. Seto discussed her involvement with Defence Research and Development Canada, an agency of the Department of National Defence and the use of robotics, or "Autonomous Marine Systems."
Joseph Howse spoke on his experience as a consultant. He had an unusual path to the tech industry, he has a BA in French but found himself in international development.
Rachael Craig represented Brilliant Labs, an organization that aims to get more computer science into preschool and high schools.
The session offered a chance for people to think of their future in different ways and what they might want try out after graduation. Students were also encouraged to join collaborative ventures such as Grant Wells' Sandbox.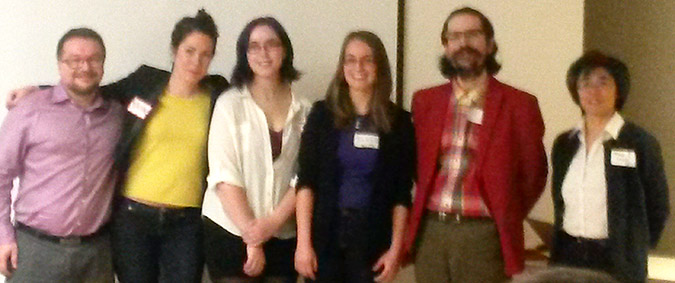 Women of computer science
Keerthana Kumar has been a member of WiTS since September and is already on the  executive.
She wants to do a master's degree in computer science that's focused on artificial intelligence. Kumar says women are equally motivated in the tech industry, but often their enthusiasm is underestimated.
"It's interesting, fun, being with people who have the same motivation and interest," she says.
The advice women get in the face of sexism in their profession can be to lean in or just try harder. The reality is that women are underrepresented in the field. At Google, women make up only 17 per cent in their tech department.
In high school science classes, there are discrepancies on how students are treated based on their gender, which can influence students on what they'll major in at university. Women who do make it past barriers in high school, their tribulations aren't over. A Harvard Business School report suggests that by midpoint of their careers, 56 per cent of women chose to leave the tech industry. There could be many reasons for this evacuation, but some are laying it at the feet of sexism.
Gender imbalance
Men also are allowed to be members of WiTS and have a role in promoting equality.
Raghav Sampangi is a PhD student in the computer science department at Dalhousie. He's been a long-time supporter of WiTS. He finds their work on equality to be inspiring. He's noticed that the numbers of women in the department are improving, with more women enrolling this year than last.
"I think it's all about changing the mindset," Sampangi  says. "We have to get out of the stereotypical definition of what girls do and what guys do, because otherwise you stay primitive, stay historic, and don't come out into the world."