Campaign reminds Nova Scotians of workplace safety
Rise in workplace fatalities demands greater preventative actions
November 26, 2013, 10:36 AM AST
Last updated November 26, 2013, 11:05 AM AST
The Workers' Compensation Board and the province's Department of Labour launched a new workplace safety campaign Friday that aims to remind workers of the importance of their loved ones.
The video depicts a child waiting on his father, a wife waiting on her husband and a dog waiting on his owner—all with the hope that they will come home safely. The message is geared towards workers and employers in what the board's website says is "a call to action for workplace safety that tells the story about why workplace safety matters."
The campaign follows a string of recent workplace deaths in the province.
Twenty-eight Nova Scotia workers — young and old — have not come home this year.
Most recently, it was a 21-year-old man who fell six storeys to his death while doing construction work for an apartment complex in Clayton Park in Halifax.
This was the same site where another young man — 25 years old — was pouring concrete and sustained the six-storey fall but is still recuperating from injuries.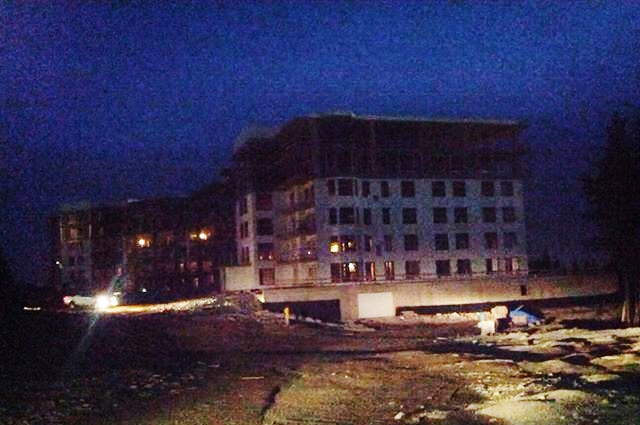 Chrissy Matheson, the media relations adviser for the Department of Labour and Advanced Education, said this year's 28 work fatalities include sudden deaths as well as those that happen over a longer period of time.
"We factor in all deaths related to the workplace: acute and chronic. The 'acute' deaths include falls, drownings and other accidents that happen very suddenly. 'Chronic' is a workplace term which reflects deaths that happen over a long term — so someone may have been injured 20 years ago but only died from those injuries now."
The board's website states that in 2012 almost 3,500 Nova Scotians under age 25 were injured on the job.
Tony Tracy, the Atlantic regional representative for the Canadian Labour Congress, says that many times the employers are responsible for these injuries and fatalities.
"In some cases these employers should be thrown in jail—and the law does allow it," he said. "Many times workers' deaths are no accidents, but the employers are killing them by not providing necessary training or a safe workplace."
The provincial Department of Labour's investigations into workplace injuries and fatalities can take up to two years before anyone is prosecuted. Since the Westray Bill—also known as Bill C-45 in the Canadian Criminal Code—was passed in 2004, to date there have been only eight cases where charges have been laid under the bill. Although, at the time the law was being discussed in parliament, the government stated that "the criminal law must be reserved for the most serious offences, those that involve grave moral faults."
Jacques Lapointe, the attorney general of Nova Scotia, released a report last week which criticized the work of the former NDP government and made recommendations for changes to be enforced with the Department of Labour in order to prevent future workplace deaths and injuries.
A few of these recommendations were as follows:
The Department should…
Establish inspection targets for the Occupational Health and Safety Division and its regions to ensure inspection staff focus their efforts on the higher-risk industries identified by the Department. Inspection targets should be documented in an annual plan and monitored.
Evaluate inspection results against the annual plans to determine if targets were met and where adjustments need to be made.
Communicate with the Nova Scotia Business Registry and Workers' Compensation Board to establish a process to obtain information on registered new businesses on a regular basis.
Develop and implement inspection checklists.
Tracy commented on Lapointe's criticism that the department wasn't following up after identifying safety violations.
"These employers need to be ticketed and stop-work orders need to be issued," Tracy said regarding the lack of followups. "Action needs to be taken."
The provincial Department of Labour says it will be following up on Lapointe's recommendations and ensure that employers comply with workplace safety rules and regulations.
According to data from the board, only 27 of 100 workplaces with the worst safety records were inspected over the most recent one-year period examined.
The department will target these higher-risk workplaces and has hired five new employees including investigators.
To report an unsafe workplace, contact the Occupational Health and Safety Division of the Department of Labour and Advanced Education at 1-800-952-2687 or fill out their online Secure Inquiry Form.

Loading ...