Citizenship test stumps even long-time Canadians
We asked 10 Canadians to answer 10 questions immigrants are asked in the citizenship exam
November 7, 2014, 5:22 PM ADT
Last updated November 26, 2014, 9:04 PM ADT
Has the Victoria Cross been awarded 96 times….or was it 93?
Did the Hudson Bay Company control the northern lands for 300 years…or was it 220?
Are these questions relevant to becoming a citizen?
Canadian-citizenship applicants between the ages of 18 to 54 are required to complete the application process, which includes an exam to demonstrate adequate knowledge of Canada and the responsibilities and privileges of citizenship. The application costs $400, which includes a criminal record check.
Applicants are asked 20 random questions from a pool of more than a hundred. The questions come from information contained in a Citizenship and Immigration Canada publication called Discover Canada: The Rights and Responsibilities of Citizenship. Applicants must answer 75 per cent correctly to pass.
But many questions on the test confound those born and raised in Canada, let alone recent immigrants.
UNews printed 10 questions taken from an online quiz at CitizenshipCounts.ca – a site that offers resources to immigrants studying for citizenship test, funded by Citizenship and Immigration Canada.
The questions were specific to immigrants writing the test in Nova Scotia. Many of these questions have made an appearance in the actual citizenship test.
UNews then approached 10 Canadian students, faculty members and administrative staff randomly at The University of King's College with these questions to see how Canadians score in a test that Citizenship and Immigration Canada considers reflective of Canadian general knowledge.
Results
Out of 10 quizzes administered, the average score was 4.9 out of 10. The highest score was eight and the lowest was two.
If compared to the 75 per-cent minimum benchmark established by Citizenship and Immigration Canada in the survey, only 10 per cent of the respondents passed.
Most respondents were amazed at how complicated the questions Citizenship and Immigration Canada asks those seeking citizenship.
What three industries are important to Nova Scotia's economy today?
The practice test funded by Citizenship and Immigration Canada, which has questions created by Richmond Public Library states the correct answer is "Coal mining, forestry and agriculture," which is an outdated answer, as the coal industry has nearly disappeared in Nova Scotia.
'I think I would fail it'
In some provinces, applicants take the exam in front of a judge. They then report to an officer from Immigration and Citizenship Canada to demonstrate comprehension of either English or French. There, they are told whether they passed or not. Those who meet all requirements pledge an oath of allegiance to Her Majesty the Queen and promise to follow Canada's laws and fulfill the duties of a Canadian citizen.
In other provinces applicants wait up to six months after the exam to attend the oath ceremony.
Those who fail the exam once are allowed to retake it a second time, but the wait can take months.
While the majority of questions revolve around government structures, rights and obligations of Canadians, other questions seem to have been copied from a history midterm.
"I think I would fail it," said Teresa Inacio, after hearing some of the questions on the practice test.
Inacio, a Canadian immigration consultant at the Dalhousie International Centre, helps international students under education visas to complete their citizenship procedures.
"I don't know how long the Hudson Bay Company controlled the northern lands…Is that relevant for a citizenship test? I don't know."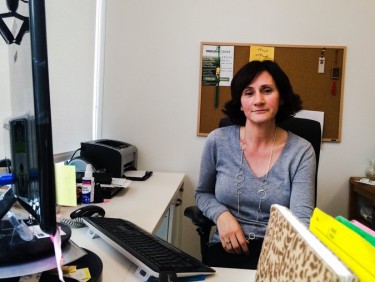 Are you interested in seeing how Canadian the government thinks would-be citizens should be?
Take the quiz here.
Editor's note: Sergio Gonzalez wrote the citizenship exam on March 25, 2014.