City relies on citizens to report burnt-out lights
City staff doesn't know lights need replacing unless citizens tell them
December 5, 2013, 7:40 PM ADT
Last updated January 3, 2014, 11:51 AM ADT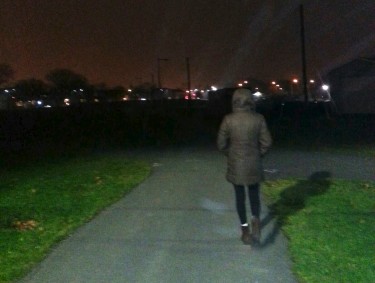 Between five and 10 of the pathway lights in the Halifax Common are currently burnt out — enough to make some Haligonians wary of walking through the city grounds at night.
The Halifax Oval has yet to open for public skating, so the lights around the rink are also off. This leaves a large section of the Commons very dark and potentially unsafe.
City staff have yet to replace the burnt-out lights because the workers in charge of doing so are often unaware the lights even need replacing.
Street lights, including the pathway lighting in the Commons, are looked after by HRM's Traffic and Right of Way services which patrols the municipality and reports issues as employees see them.
The problem is that they work the day shift.
This makes lighting the one area in particular in which the city relies on citizen help.
HRM owns approximately 14,000 street lights, including those in parks, and is responsible for the maintenance of street lights within the former City of Halifax boundaries. Nova Scotia Power is in charge of street light maintenance for the rest of HRM and owns approximately 23,000 street lights.
HRM encourages citizens to alert the city of any maintenance issues, including burnt-out lights, and states staff will attend to specific lights that are brought to its attention.
But some pedestrians say they didn't realize it was their responsibility.
"I had no idea it was up to citizens to report burnt-out lights," says Annick Colbert, a fourth-year economics student. "People should be aware that it's their responsibility to report burnt-out lights because the lighting of streets at night really affects our safety," she says.
Kenzie Morrison, a fourth-year microbiology student who frequently cuts through the Commons, agrees that most citizens probably don't know it's up to them to report this issue.
"I think it's really important people know they have to report it, in both the Commons and everywhere else in the city. People need to know what their role is in the community," Morrison says.
Janet Bryson, a senior communications advisor at HRM, says it's often HRM staff who will report a light that is out in the Commons.
"We do rely on residents to let us know if a light is out or malfunctioning," says Bryson. "However in the case of the Commons, there is a number of staff in and around the area on a regular basis who would also keep an eye on the lighting."
While the burnt-out lights may have gone unreported, the resulting darkness has not gone unnoticed.
"I think the Commons are way too dark at night," Morrison says. "The sides are barely lit enough to walk around the outside, but the middle is terrifying."
Bryson says that HRM recently put in new LED ornamental lights around the Oval. While traditional lights have a life of 25,000-50,000 hours, LED lighting has 20 years. She says that as the need arises to replace pathway lighting in the Commons, it will be replaced with LED lighting.
HRM has a three-day response time to replace a light once they're notified.
HRM staff can be notified of these issues online or by phone at 311.