Councillor wants bike licences
Dartmouth councillor says move would help people identify bad cyclists
December 1, 2014, 4:48 PM ADT
Last updated January 9, 2015, 9:27 AM ADT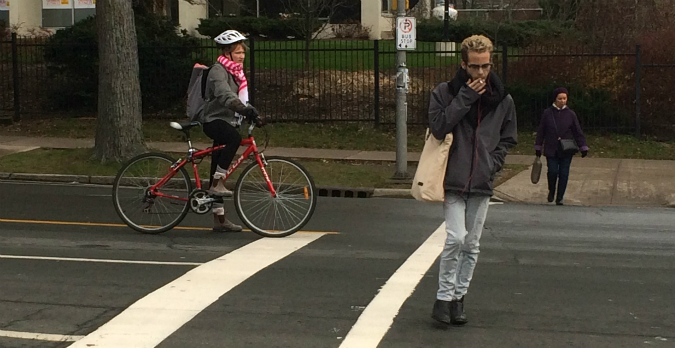 A Dartmouth councillor wants the municipality to look into bike licensing for those over 18 years of age.
Councillor Gloria McCluskey stressed that it was not about generating revenue, but rather residents wanting to be able to identify cyclists.
McCluskey says her constituents have complained that cyclists have knocked pedestrians down.
"Others [pull] in beside your car on the curb, scratch your car and keep going," says McCluskey.
However, she says the move would not be a money-grab.
"I wouldn't care if they charged them anything," she says.
Bike licensing is familiar territory in Halifax. In 1936, Halifax introduced Ordinance 15 that required all bikes to have a permit and levied a fine of one dollar for each day up to seven days afterwards without a permit. It was abolished in 1980 as a cost-saving measure.
It was also brought up in 2005, when a bikeways advisory committee looked into the issue and came up with the conclusion that it was not worth pursuing. A report on bike licensing came out in 2009, but to no avail.
Cyclists unhappy
The prospect of bike licensing is not popular among the city's cyclists, who believe the motion is ineffective.
"People have forgotten that we've had these laws before, and they didn't really work," said Emily MacDonald, co-chair Halifax Cycling Coalition. "We don't think it will be effective in educating cyclists. What we really want to see is more cyclists on the roads."
Instead of paying fees, the cycling group wants more education in schools and more enforcement when cyclists break laws.
There are currently only two municipal staff members working to implement the region's Active Transportation plan for walking and bicycling facilities. But if McCluskey does not get the support she wants for the licensing proposal, she says she won't put staff through the "trouble" of a report.
Nine councillors will have to support McCluskey's motion for a licensing report in order for it to pass. However, McCluskey wants nine councillors to support the actual bike licensing idea rather than just the motion.
Otherwise, she says she will withdraw the motion for the report because "it's not good enough."