Cultural fair celebrates Dal's multicultural 'fabric'
DSU's 'International Airport Terminal' gives students a chance to experience other cultures close to home
November 28, 2013, 3:31 PM AST
Last updated November 28, 2013, 3:33 PM AST
The Dalhousie Student Union Building played host to the international community Wednesday for a three-hour multicultural fair held as part of the school's International Education Week festivities.
The "International Airport Terminal" was organized by the Dalhousie Student Union, allowing students from various cultural groups to share their foods, music, traditions and other cultural elements with the school as a whole.
While only a dozen or so groups were present for the event, those who attended were enthusiastic about sharing their cultures.
Tamar Ellis, president of Israel on Campus at Dalhousie University, talked about the country's sustainable technologies. "We thought (discussing these technologies) would go well at Dal because Dal is so into environmental sustainability."
Cultural societies were not the only groups on hand. Dalhousie's Equity and Accessibility Office was at the event promoting its survey on issues such as racism, sexism and homophobia on campus.
"We're going to be using those results to write a report (for the DSU) so that they know what the problems are on campus and some suggestions so they can make campus a better place for students," said Elsie Boudreau Graham, the office's Campaigns and Partnership Co-ordinator.
Events such as this allow societies to share their cultures with their peers, but on a day-to-day basis, the societies are about coming together and even educating themselves.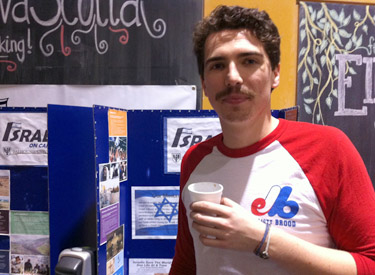 "When we (African students) come together, you don't feel lonely here at Dalhousie being from Africa," said Sixbert Himbaza, representing the Dalhousie African Student Association. Jack Widdowson and Ashar Gaskin, from the group Dalhousie Caribbean Connections, also said that in preparing to educate others, they learned a lot more about their own cultures.
Student union vice-president student life, Danny Shanahan, said the societies in attendance were just a fraction of those at the university.
"We did it because there's so many amazing cultural societies here at Dal," said Shanahan. Student union vice-president internal, Ramz Aziz, added that the campus is becoming more diverse every year and the fair helped to celebrate that.
Every group involved had something different to offer, from traditional dances and attire to key-chains for attendees to bring home with them.
"University's a place where we can share ideas and opinions, no matter how differing they may be," said Aziz. "Ultimately, this is all celebrating that, and giving (international) students a chance … to feel like they're a part of this fabric."
International Education Week at Dalhousie will conclude tomorrow with a gala dinner.