Dal addresses student registration complaints
After the system crash of March 2012, Dal Online has been upgraded
January 30, 2013, 12:21 PM AST
Last updated January 31, 2013, 12:21 PM AST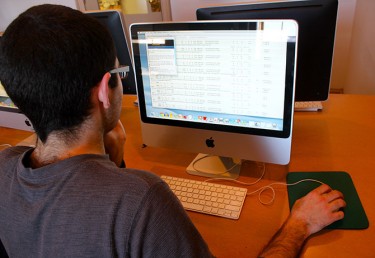 When fourth-year Dalhousie University student Bahij Haddad tried to register for his courses last fall, he already knew about problems with the online registration system. The university was requiring students to register at pre-determined times to reduce the load on the server. But he still encountered issues.
"I had the 6 a.m. time slot  [the earliest time] so it was pretty brutal," he says. "The server just crashed and it wouldn't let me sign in to Dal Online."
The site rejected the student identification code when attempting to log in and eventually crashed as it was unable to handle the number of visitors.
Since Haddad wasn't sitting by his computer – refreshing the page constantly – he missed the opportunity to punch in his desired course codes before certain classes became full. He ended up not being able to register for a marine biology class he'd been looking forward to taking.
"So I put in the CRN number [course code], and low and behold, it was instantly full and I ended up having to take a course I didn't particularly find interesting."
Haddad is one of many students who were agitated with how inefficient Dal Online had been.
"We had a huge spike in mentions on Facebook and Twitter of students expressing frustration during that timeframe," says Mairead Barry, associate registrar at Dalhousie's admissions office.
Changes and testing the new system
To ensure students have a more effective online registration, the university has now updated its software and hardware.
Today, Dalhousie University is partnering-up with students to put the new system to the test. The goal is to simulate the around 2500 people who would be on the site during the March registration period.
The Facebook event provides a link to where students can log on at 5 p.m. for a 10 minute test drive.
For those who fill out a survey at the end, Dalhousie Student Services will donate $1 to Shinerama – a cystic fibrosis research charity.
"We want to try absolutely everything to make sure we aren't surprised on the day of [March 19] with any errors. One of the best ways to do that is a simulated registration to try to get as many students as possible and test the system and makes sure they are encountering any errors," says Barry.
Issues of the past
The problems have been growing for years.
Two years ago the server crashed, which caused Dalhousie to implement time slots to control the amount of online traffic.
Sam Bowen, a fourth-year student, doesn't think the new component enhanced the efficiency of the system.
"Every year it's so slow - it eventually works – but it's so slow."
Barry hopes the upgrade will have ironed out any kinks in the system.
"Hopefully the upgrade resolved any issues we have moving onward."