Dal dentistry student's lawyers want his reputation restored
New evidence brought forth at news conference into merits of Millet's suspension
January 21, 2015, 2:49 PM AST
Last updated January 22, 2015, 5:24 PM AST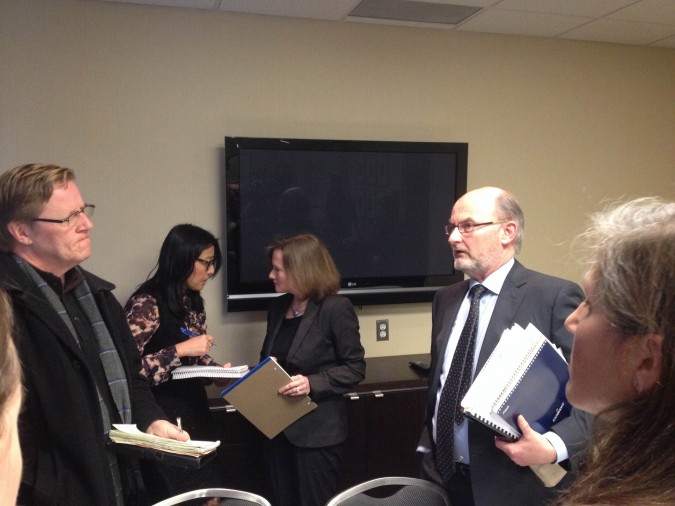 The Dalhousie fourth-year dentistry student who blew the whistle on the infamous "Class of DDS 2015 Gentlemen" for sexist, misogynistic and homophobic posts may be looking for justice longer than he hoped.
Ryan Millet, who was a member of the Facebook group when offensive screenshots from members were released to the media, had his disciplinary hearing Tuesday night which lasted more than four hours. His lawyer Bruce MacIntosh said Wednesday that he asked for an adjournment of the hearing because there was new information introduced.
While MacIntosh decides his next move, Millet is on indefinite suspension.
Millet was scheduled to address the media Wednesday morning, but didn't show up. Instead, his lawyers Bruce and Sarah MacIntosh answered reporters' questions.
Bruce MacIntosh said Millet didn't attend the news conference because he was "discouraged by the outcome of last night's disciplinary hearing."
There were six Facebook posts that were addressed during Millet's hearing that were the basis of Millet's suspension, and constituted the finding of blatant unprofessionalism.
Sarah MacIntosh said that of the six posts, Millet had Facebook activity in only one. The post shows a woman in her mid-20s, dressed in a tank top and shorts, sitting on a staircase with "public entrance" written on the step she's sitting on.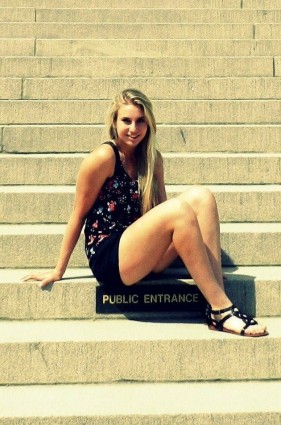 Sarah said Millet didn't post or comment on the photo, but 'liked' it.
"He clicked the like button," Sarah said. "And clicking the like button on that photo resulted in his indefinite suspension and has put his degree at Dalhousie and his career on the line."
The woman in the photo, Sarah said, is not one of the fourth-year female dentistry students who came forward.
"At most it may be of bad taste, but it's not misogynistic, it's not sexist, it's not homophobic."
Bruce noted that before the release of the screenshots to the media, there were two other Facebook groups for the DDS Class of 2015. One was a general group for all graduating class members and one was limited to females in the class.
The groups have since been deleted.
Another photo in question, posted in the general Facebook group, depicted a patient in a clinical trial. Bruce noted that although this was an invasion of privacy, it was not a misogynistic post.
The poll in which members asked which female dentistry student they'd like to "hate fuck" was not one of the six posts addressed during Millet's hearing.
Bruce argued that Millet was found "unfairly guilty by association" for being a member of the Facebook group that he did not participate in.
"If guilt by association is the new standard for finding of professionalism, people should be going in and finding what movies they've watched (or) what parties they may have been at where people made inappropriate comments," Sarah said.
Bruce cited CBC's involvement in the story as another reason Millet did not attend the news conference. CBC posted an article with a screenshot of a private conversation between Millet and a female classmate. In the conversation, Millet appears to be sounding the alarm to the group.
Millet has since said he did not author that post.
Tuesday evening, CBC sent an email to what Bruce imagines was the entire dentistry class, asking for questions or comments for Millet's news conference. Millet interpreted that as just "looking for more dirt" on him.
"I can tell you that type of journalism is not what I would expect from an organization that I always thought very highly of," Bruce said.
Bruce said there were several issues with the way Millet's disciplinary hearing was conducted:
Dalhousie senate vice-chairperson Katherine Harman acted as independent observer of the trial without their knowledge; recording devices were not allowed; and the hearing was held in-camera.
"It boggles my mind that we were not given prior notice of that."
Millet was the only member of the Facebook group who opted not to participate in restorative justice.
Bruce admits he is not confident that the members of the Facebook group will graduate this term.