Dal prof gives bonus marks for STI test
Matthew Numer says a goal of his sexuality course is prompting students to "normalize STI screenings."
November 12, 2014, 6:03 PM AST
Last updated November 17, 2014, 12:11 PM AST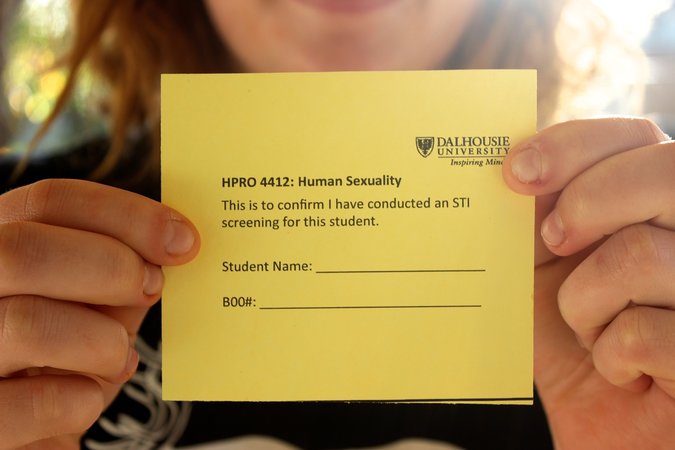 Students in Dalhousie's Human Sexuality course can boost their final grade by getting tested for sexually transmitted diseases. It doesn't matter if they pass or fail, they'll get the bonus mark just for doing it.
This is the second year that Professor Matthew Numer has offered the extra credit to students in the fourth-year course. Last time more than half of the 400 students took advantage of it.
"The class was pretty excited about it," says Kathryn Furlong, a Health Promotions student who took Human Sexuality last year and elected to get tested. She says she didn't hear of any classmates who were against the idea.
"I thought a little bit of incentive is a good way to make it a routine," says Numer. "Especially with people in this age group who tend to be more sexually active with different partners."
Students can go to Dalhousie Health Services, the Halifax Sexual Health Centre or their own doctor anytime throughout the semester to get a free screening for chlamydia and gonorrhea. They just have to ensure the doctor or nurse who administers the test fills out one of the forms Numer has left at Dal Health and the sexual health centre or their doctor provides a note that they can hand in.
The form simply states that the student had the test done. It doesn't disclose results. At the end of the semester, there'll be an extra one percentage point tacked on to the student's final grade.
"Because it's bonus, it is completely up to the students whether they want to do it or not. It's not a required part of the course," says Numer.
Relevant to the course material
Numer's system for giving out bonus marks grew out of a project started by a colleague in his department. Lesley Barnes was teaching a class about communicable diseases and started doing a similar screening project for rubella. When screening for chlamydia became possible using self-swabs, it meant testing could be done outside of doctors' offices.
Barnes suggested that the two partner on a chlamydia screening clinic at the school and encourage their students to go. There was one problem however: the clinic was for women only.
"To include men and everyone else in the class, I expanded it so that you could go and get an STI test anywhere during the course of the semester," he says.
Numer thinks one of the major barriers students face in getting screened for STIs is not knowing what to expect. He brings in the head doctor of Capital Health's STI lab as a guest lecturer to try and combat that.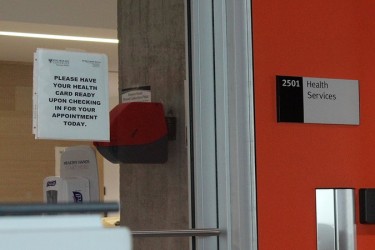 "I think a big part of it is to normalize STI screenings, particularly among young people who may not have had them before," he says.
Furlong believes that the self-swab option for women made the opportunity more encouraging because it allows an aspect of anonymity.
"It was a great opportunity to learn about the sexual health services Halifax offers," she says.
Other opportunities for bonus marks
If a student isn't sexually active or doesn't want to have a screening, Numer offers a more scholarly alternative in the form of a two-page paper. Last year not one of the 400 students handed one in.
Students can also earn a bonus mark Nov. 13 when the Health Promotion faculty hosts its twice-yearly Sexy Party at Pacifico, a Halifax bar. The night is a fundraiser for the sexual health centre and features sex-positive games and workshops. Purchasing a ticket will boost their mark another percentage point.
STIs in a university setting
Glenn Andrea is the director of Dal Health and works with Numer to put on screening clinics at the university. He says there are over 60,000 cases of chlamydia diagnosed in Canada every year, most commonly in people 18-25 years old. Nearly half of those individuals won't have symptoms.
Numer says that of the 250 or so of his students who were tested last year, he'd reckon a few of those STI tests came back positive.
"Anything that encourages a screening for people at risk… is a good idea," says Andrea. He advises that students should be tested every time they've had a new partner or every three to six months if having sex with multiple partners.
The response to Numer's unconventional point system has only been positive. He gives students the opportunity to give feedback anonymously online and the general consensus seems to be that while it's often challenging for students to get tested, most have a positive experience.
Numer can't know if his students will make STI tests a part of their regular health care when marks are no longer on the line, but he does acknowledge that right now, because of his course, "there's a lot of people out there getting screenings."