Dal students longing for change in Nigeria
'When I was little, one of my uncle's co-workers got burned alive because he was Christian'
January 19, 2015, 11:08 AM AST
Last updated January 19, 2015, 9:53 PM AST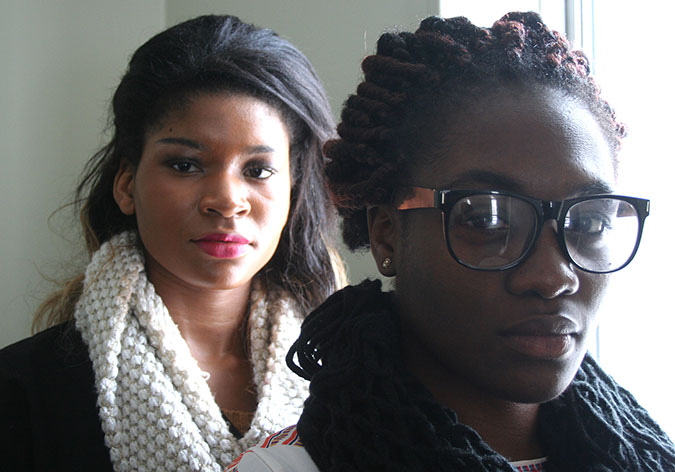 Chioma Ogbanufe and Favour Fagbile have the same pressures as most other first-year university students: getting used to the post-secondary lifestyle, juggling classes, friends and hobbies, and thinking about their future careers.
But these two Dalhousie science students have some extra stress in their day-to-day lives. They must worry about their friends and families back home in a country torn apart by corruption, religion-fuelled clashes, and terrorist attacks.
Ogbanufe and Fagbile are from Nigeria where the militant Islamic group Boko Haram has killed thousands in violent attacks over the past decade. The situation in Nigeria received increased international attention in 2014 with Boko Haram's kidnapping of 274 schoolgirls in Chibok. Most recently, the group was responsible for attacks in Baga, where they are estimated to have killed up to 2,000 people earlier this month.
Though both Ogbanufe and Fagbile have lived in Halifax for the past seven years, the majority of their families still live throughout the country of Nigeria.
Fagbile grew up in the city of Lagos in the country's southwest, Ogbanufe was born in Nigeria's capital Abuja but grew up in Enugu in the southeast. Both women have family all over the country.
In Nigeria, the southern states are mainly Christian while the north is predominantly Muslim and ruled under Sharia law. Fagbile and Ogbanufe are Christians.
They were still children when they left but Fagbile and Ogbanufe have many memories of growing up with the violence that plagues Nigeria. They've both had family members involved in bombings, and Ogbanufe and her father once narrowly escaped an armed attack on their bus.
"I remember when I was little, one of my uncle's co-workers got burned alive because he was Christian," Ogbanufe said.
Fagbile immigrated from Nigeria with her parents and siblings when she was nine years old. Ogbanufe came to Canada with her aunts but her immediate family - her parents and five siblings - still live in Nigeria. She has family in Abuja where there have been Boko Haram attacks in the last year.
Ogbanufe said she thinks about her family constantly; she said she has to stop herself from checking in with them too frequently when there's news of violence.
"You can't keep calling because it makes them fearful," Ogbanufe explained.
Fagbile too is constantly aware of the unrest that afflicts Nigeria. Her extended family is scattered throughout the country, and her 25-year-old cousin is currently stationed in Kaduna, a part of Nigeria where there have been attacks in recent months. Fagbile said she calls and texts her cousin daily.
"She's scared to death," said Fagbile.
Fagbile has not been back to Nigeria since coming to Canada with her family, but Ogbanufe visited last summer. The change, she said, was palpable.
"(Boko Haram) are making people very fearful, I could notice it," she said. "People don't go to church anymore because they're scared."
'They will stop you'
The name Boko Haram translates to "Western education is forbidden." Ogbanufe and Fagbile, both medical school hopefuls, recognize they are fortunate to be getting their education in Canada.
"You don't have that distraction of violence and safety. You're very safe here," Ogbanufe said.
Fagbile, whose father is a pastor, said she's grateful her family can practise their faith without fear.
Along with anger, fear and worry, one feeling that comes to mind for Fagbile when she hears the news out of Nigeria is hopelessness. That's how she felt the day of the Chibok kidnappings.
"I was the only Nigerian in the class so a girl asked me, 'Are (those girls) ever going to be safe?' I just answered, 'Forget about it,'" Fagbile said. "It was really hard for me to say that (but I knew) they weren't going to be safe."
"It's someone's kid, you have to think about it that way," Ogbanufe added.
For Ogbanufe, there is a sense of corruption and distrust towards those in power. She said in her opinion the only way to make a change is to clear out Nigeria's current leaders and create a truly democratic government.
Fagbile plans to return to Nigeria for military service when she finishes her education, but she said she doesn't know if she will ever go back permanently.
"I would be really scared to go back because churches in Nigeria are not safe at any time, you don't know when they're going to come because they are against Christians," she said.
Ogbanufe said she would someday like to move back to Nigeria, but longs for major change she's skeptical will ever come.
"It's my country, of course I want to go back. (But) I feel like it's very hard to see change in a country that's so corrupt," Ogbanufe said. "Whenever you want to bring a positive change something will happen to you. They will kidnap you, you'll go missing. They will stop you."