Dal students offer mental health support
Group holds day of events offering peer support for mental wellness
February 13, 2014, 12:10 AM AST
Last updated February 13, 2014, 12:10 AM AST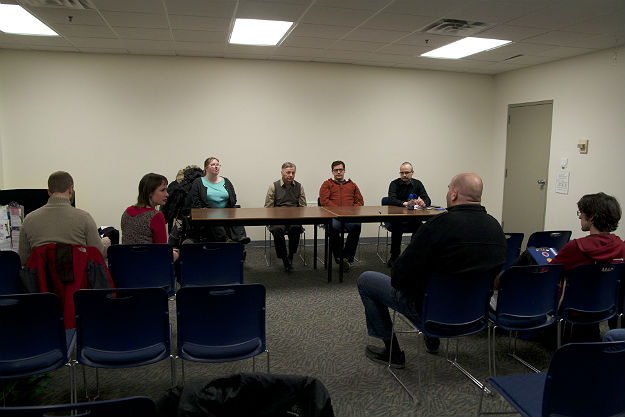 Not long after the successful Bell Let's Talk fundraiser, a Dalhousie Students Union group held a day of workshops to promote awareness of mental health issues.
The Dalhousie Student Union's Mental Wellness Day included a workshop on acceptance and self empathy, an open mic session where students talked about their own experiences with mental health issues, and a workshop on Mad Pride. Mad Pride is a movement to reclaim language such as 'mad' and 'crazy' used against people with mental illnesses.
The event was put on by the Dal Mental Health Peer Support Group.
The day ended with a panel of support workers who offer help to students on campus. They included staff from the university's Counselling Services department as well as off-campus services such as Laing House, a drop-in house for people aged 17-30 who have been diagnosed with a mental illness.
Morgan Hawkes, a third-year kinesiology student, was discharged on Tuesday from the Abby J. Lane mental health unit at the QEII, coincidentally just in time to attend mental wellness day. Hawkes, who was admitted to Abby J. Lane on Jan. 18, says she was recently diagnosed with bipolar disorder after a manic episode in which she gave away many of her belongings to strangers who she thought needed them more.
"I thought it was quite amazing," said Hawkes about the workshop on self compassion. "There are other people that can empathize."
The idea for the day sprung from the Canadian Psychological Association's designation of February as Psychology Month, a month based around helping communities realize the role psychology plays in peoples lives.
"We wanted to connect people to the supports that they needed," said Laura Burke, the co-ordinator for the event, who also works with the Dal Mental Health Peer Support Group.
Attendance fluctuated throughout the day based on activity but held strong for most of the day.
"It raises awareness," said Burke. "It's important to catch those students who don't know about these services."