Dal students rally outside Halifax Security Forum
Nearly 60 students protest North Korean labour camps
November 23, 2013, 1:50 PM ADT
Last updated November 25, 2013, 10:17 AM ADT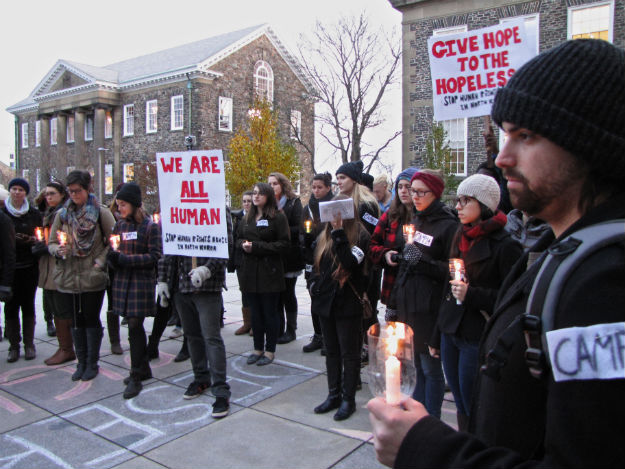 While international politicians and academics discussed international security at the Westin Hotel on Friday evening, almost 60 Dalhousie University students rallied outside in Cornwallis Park, protesting the human rights violations taking place in North Korean labour camps.
They marched around the park's perimeter, carrying hand-drawn posters and wearing "Camp 14" armbands, before gathering at the park's core to denounce the injustice. A handful of students sang and played instruments, while others gave speeches.
The majority of students are in a third-year international development course, Development and Activism: Methods of Organization, Manifestation and Dissent, taught by assistant professor Robert Huish. He was one of the protestors.
"Our class project this year was to organize a peaceful demonstration to talk about the fact that you've got 200,000 people in North Korean labour camps, right now," said Huish.
They decided to protest at Cornwallis Park, given that the Halifax International Security Forum was being held across the street.
"World leaders are meeting, who are all experts in security," said Huish, "And we would hope that this pressing human rights issue would be part of their discussions over the weekend."
The forum brings together more than 300 decision-makers from governments, militaries, business and academia annually to discuss security issues.
Students who studied Development and Activism last semester learned about Shin Dong-hyuk, the only person known to have been born into a North Korean labour camp and successfully escape.
"We read the book, we got behind it and we said that this is something that requires a lot more awareness," said Huish. "There's no discussions of it on the university campus. Forums like this barely touch on it.
"We wanted to see what we could do as students in a class to raise awareness," he said.
Shin came to Halifax earlier this year and spoke with last semester's Development and Activism class, which also rallied against the labour camps. Taylor Quinn, who was able to speak with him briefly, recalls how humbled Shin was by the efforts of students who had never met him.
"A story can be extremely powerful but his is not just a story," says Quinn, who also spoke at the march. "You can't really believe that it really happens, and to that extent. You know the world is full of problems but for that to be going on right now and for the world not to know, it's kind of scary."
Third-year international development studies student Bridget Morrisey pointed to what was going on inside the Westin Hotel.
"We're trying to grab their attention," she said, "And get the conversation going with them, there."
Morrisey didn't know about the North Korean labour camps until this semester.
"That's the issue: Nobody knows about them," she said.
Her classmate Michelle McGee was standing nearby and offered some of the same insight. Asked why this issue is important, McGee said, "Not that many people know about it… Human rights laws are being violated and nobody knows about this."
McGee recalled Shin Dong-hyuk's visit to Dalhousie in March, which she attended.
"That's actually what made me want to take this course.
"He doesn't want to be the person getting his voice out there," she said. " He wants us to take his message in and spread the word."
The next day, Rodrigo Hinzpeter, Minister of National Defense for Chile, brought North Korea up. The question he had been asked was about the Latin American countries reaction to the economic recessions that affected the rest of the world.
"I'm deeply concerned with North Korea," he said, adding that the Forum talks about strengths but also needs to address problems.
"We have a country with concentration camps, with millions of people starving, a country that two weeks ago 80 people were executed…We have to put stress on the goods and the bads."