Dal students waiting for mental health services
Centre has seen a 180% increase in number of emergency appointments
December 1, 2014, 11:47 AM AST
Last updated December 2, 2014, 12:21 PM AST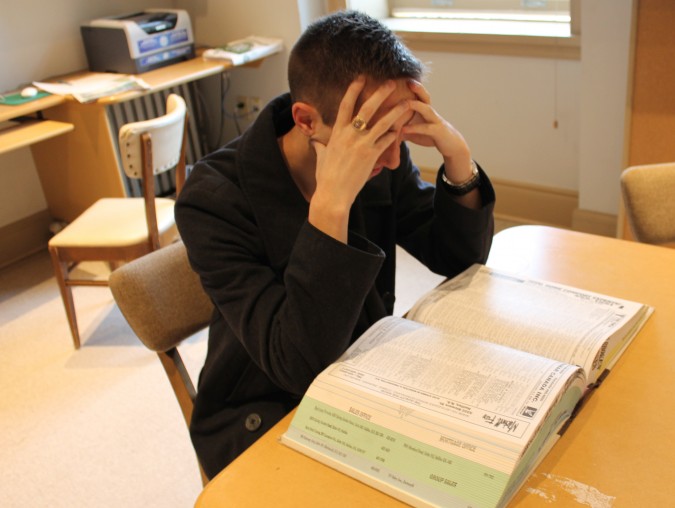 Exam time is a stressful season for students.
Nowhere on Dalhousie University's campus is that more evident than at its personal counselling office.
Counselling Services has seen a sharp increase in activity this entire year compared to last. And not just for the exam season alone.
According to David Mensink, a psychologist with the centre, the number of people Counselling Services has had to turn away has increased 64 per cent from this time last year.
Even more surprisingly, there has been a 180 per cent increase in the number of emergency appointments, in which a student has been pre-approved to book a session on the same day and cannot be denied.
These increases mean that anywhere between 12-18 people per day get denied a same-day non-emergency consultation.
Denial of same-day service 
"To get turned away, I can't imagine how hard that would be for someone. That sucks," says Lena Slanisky, a fifth year Dalhousie student who used the counselling services in December of last year when her grandmother passed away.
Last year, about eight to 10 students a day were being turned away.
"It shows you the business of the centre. We get a lot of calls and a lot of people want to come and see us," said Mensink.
They have between six to eight spots open per day for new bookings.
"Once those eight spots are filled, then there's a group of people, we'll say 'call tomorrow'," said Mensink.
Mensink says 95 per cent of these people will be seen with the next two or three days.
Slanisky's experience last year was similar.
"It felt like it took a long time to get to talk to somebody to actually have a conversation with," says Slanisky.
Slanisky waited two days for her initial consultation and then a week to talk to a counsellor.
"Because it took so long to get there, I ended up feeling more stressed," said Slanisky.
During the initial consultation, the counsellor can suggest booking a second session, which can be anywhere from one week to a month away.
"If it would have taken a month for me to sit down and speak to that [counsellor], I would have failed a class," says Slanisky.
Slanisky acknowledges her situation had led her to be behind in her coursework and she needed the consultations to get doctor's notes in support of her requests for academic accommodation.
All services are free for students, however if the counsellors suggest outside help, that is not covered by the school.
Factors of the increase
Mensink attributes this year's increase to three factors:
The office moved last year. They are now right beside the Dalhousie health clinic, thus there is increased referral from that department
The counsellors' reputation at the centre and the lack of other affordable off-campus options
An increased need for help
As far as getting the number of appointments back down to a manageable size, Slanisky says a week off school in the fall would be beneficial.
Many universities across Canada have a week-long break in October as a means of giving students a break from their course load.
Mensink has worked with Dalhousie for 27 years and has seen a dramatic increase in the number of appointments since he started, but acknowledges this year is abnormal.
"In these 25 to 27 years, I do see a steady increase, but there's certain spikes and this year is definitely a spike," says Mensink.
For Slanisky however, her counselling experience was largely a positive one.
"Everybody that I spoke to was fantastic," she says.
Funding 
This year the Dalhousie Student Union gave counselling services money to hire another full-time counsellor, one that would work exclusively with international students.
Counselling Services also hired two additional part-time counsellors to handle the demand.
Mensink says this is not enough. He and the rest of the counselling staff have lobbied for more money many times to no avail.
"The first year I started, and ever since, we've appealed to the administration to provide more full-time counsellors," says Mensink.
For Slanisky, this is a problem that needs addressing.
"A change is happening and it's interesting. Where does the money go in the university? Obviously it needs to be going to something like this [mental health counselling]," says Slanisky.
According to her, the increase in appointments is evident of a larger problem at the school.
"If the student body of this university is not well, and clearly they're not, the university's not well."