Dalhousie senate to meet behind closed doors
External investigation into faculty of dentistry remains main topic of conversation
January 19, 2015, 4:49 PM AST
Last updated January 19, 2015, 9:45 PM AST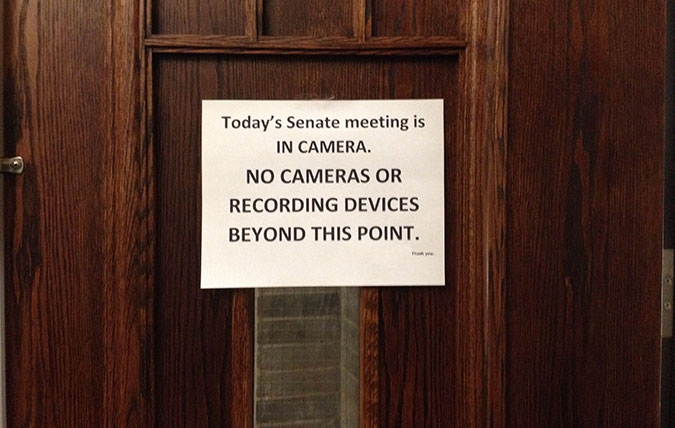 The Dalhousie senate will pick up today where they left off at last week's meeting to discuss whether there should be an external investigation into the faculty of dentistry.
The motion was discussed at last week's public meeting on Jan. 12. This meeting, however, will be held in-camera, meaning all updates regarding process and procedure do not have to be released.
The senate will hold a motion on whether the motions discussed during the in-camera meeting should be made public.
The meeting agenda has motions that will have senators discuss Dal's joint task force, substitute decision-making process, and review the university's just processes, with attention to Dal's Sexual Harassment Policy.
Brian Leadbetter, director of communications and public relations at Dal, and senate chairman Alan Pinder were unavailable for comment about why this meeting is in-camera.
The senate is responsible for discipline and granting degrees. Last week, it pushed the external investigation of misogyny on campus to today's meeting, which left many unhappy.
"I think they're moving too slowly and not deliberately for students," Jacqueline Skiptunis, vice-president of academic and external of the Dalhousie Student Union, said last week.
Associate philosophy professor Letitia Meynell called for the Academic Standards Class Committee, which is currently holding the investigation, to be replaced by an external body. However, Pinder said that is unable to happen, as the investigation is already underway.
Dal president Richard Florizone briefly spoke to the media before the meeting. When asked about the hearing for the individuals involved, Florizone said, "the process is in place and the ASCC will start to meet individually with each of the men."
"That's the point of ASCC, they're individual hearings, following out just processes and confidentiality for each of (the 13 men)," said Florizone.
The meeting is scheduled to run until 6 p.m.