Dalhousie's Killam Library begins artist-in-residency
Sonic architect William Robinson will transform the building into a 'kinetic sculpture'
January 22, 2013, 12:20 PM AST
Last updated January 24, 2013, 11:07 AM AST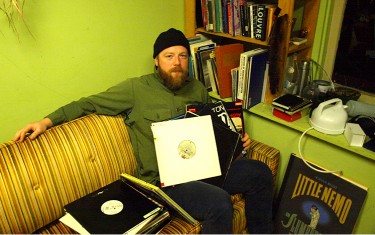 'Music is liquid architecture; Architecture is frozen music.'
Popularized by the German philosopher and intellect Johann Wolfgang von Goethe, for multimedia artist William Robinson, the quote has become a mantra — a way to understand the angular patterns and frigid emotion of his latest muse.
"It's kind of a vague quote, but it definitely applies to my work," he says from his workspace in downtown Halifax. "Trying to bring an emotive, ethereal translation from something that's so rigid and cold."
From Jan. 21 to Mar. 1, Robinson will keep this quote in his mind as he takes part in the inaugural artist-in-residency at Dalhousie's Killam Library.
A graduate of the Nova Scotia College of Art and Design, since 2004, Robinson has made a name for himself on a national level with his sonic installations, transforming Halifax's Point Pleasant Park into a musical jam space in summer 2011 and a Sonic Youth-inspired visual metaphor for idolatry at St. Matthew's Church later that year.
But in November 2012, Robinson heard murmurs in the local arts scene about an upcoming artist residency at Dalhousie University, a school predominantly known in the art world for its music and theatre studies.
The residency was the brainchild of Nancy McPhee, a library and information studies student at Dalhousie. An accomplished textile artist and photographer in her own right, McPhee was inspired to launch the program while interning at the Killam Library.
"As libraries and librarians, we deal with people completing research all the time," she says. "And artists also complete research, but it looks different and it behaves differently."
Partnering with Peter Dykhuis, the director and curator of the Dalhousie Art Gallery, the two created an open call for local interdisciplinary artists who had a unique research project for the library.
A brutal inspiration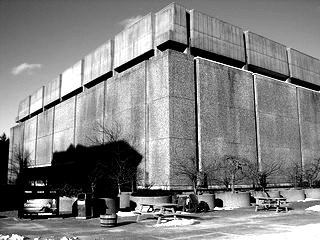 Completed on the year of his death in 1971 by Nova Scotian architect Leslie R. Fairn, the Killam Library was inspired by the Brutalist architecture movement—a totalitarian and modernist approach exemplified by a linear and concrete aesthetic.
"It just seems so out of place. But I'm attracted to that," Robinson says about the Killam's Kubrick-ian design. "It's almost like a spaceship landed there. There's a sci-fi quality."
Out of 37 applicants, Dykhuis says Robinson was unanimously accepted due to his unique take on the building's design.
"What was interesting about William's proposal was that it touched on a number of things totally significant to the site," Dykhuis says. "The project is the residency. It's not just a place to make stuff. That's just an extension of the practice. He's actually going to invade the building and snoop about."
In "Brutalist Song" (the project's working title), Robinson plans to make a "kinetic sculpture" of the Killam Library. Working with researchers and archivists, Robinson will work with the library's original blueprints, creating a 3D model that will then be analyzed by an orbiting sensor that will turn the information into sound waves, playing the building as if it were a record from the outside in.
During the residency, Robinson will be compensated $500 a week for his research. At the end of his time, he'll unveil the project during an artist's speech with the school, but is currently unsure if the piece will be completed after the six-week time period.
But for Dykhuis and McPhee, the goal of the project isn't the final product, but in the research itself.
"I think more than anything it's about recognizing or creating a space where libraries can be relevant in many different ways," McPhee says.  "It's a way for us to provide a research environment and assistance in a new way."