Deep Water Church attracts a young crowd
Casual and simple approach to worship has the second location thriving
January 19, 2015, 7:16 PM AST
Last updated January 19, 2015, 7:16 PM AST
It's unusual to worship in a movie theatre. Not many churches read music and sermons from iPads. And fewer and fewer churches boast a strong youth presence in their congregations. But Deep Water does.
Deep Water Church ditches the conventions of a traditional Christian church for a simpler way to worship. Perhaps this is why it is thriving at a time when church isn't as in style as it once was.
The attendance last year was at about 250 people attending each week, a number that has steadily increased since their opening seven years ago.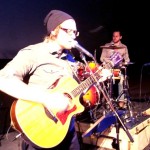 Band member and worship leader Geoff Fyfield has five terms he thinks capture the appeal that Deep Water has to young people: casual, simple, authentic, good teachings and good music.
Each service starts off with a live band performing Christian rock. The sermon links theological and biblical concepts with applicable real-life situations. Last week, lead pastor Jon Stephens had people laughing one minute, and crying the next.
Who Deep Water is for   
Deep Water is run by a core group of three: Fyfield, Stephens and assistant pastor Jerry Wurnig.
Wurnig, who chooses to read his sermons from his iPad, says, "Deep Water exists for people that aren't here yet."
Each week, a video plays explaining what will happen during the worship. It's meant to eliminate pressure for newcomers, or people unfamiliar with Christianity.
This video is played at the beginning of every worship service from Deep Water Church on Vimeo.
"Nothing is going to turn people away more than us acting like everyone is already a part of the 'in' crowd and if you're not, you should feel weird about it."
He thinks using a movie theatre as a worship spot is a draw for people who may be intimidated or turned off by the idea of attending a traditional church service. It's a neutral and familiar environment.
Appealing to non-devout Christians
Stephens says Deep Water's congregation is "all over the map." Some people have been devout church-goers for their whole lives. Others aren't sure how they identify religiously, but find Deep Water a safe place to learn about Christianity.
Erin Beaubien is one of those people.
Beaubien has been going to Deep Water since she moved to Halifax to attend university, three and a half years ago. She was raised Jewish and identifies as such, although she admits being more of a cultural Jew than a practising Jew.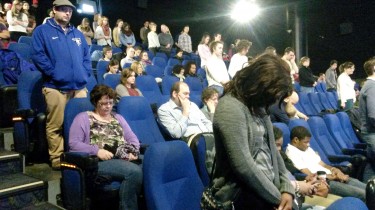 "It's really welcoming. It doesn't presuppose anything about you. They do care but they're not judgmental.
"It feels good just knowing that you can go and not feel pressured and not feel judged and you can just appreciate it for whatever you need on your own level."
She says she probably wouldn't attend any church in Halifax other than Deep Water.
"It's not the same feeling," she said, shaking her head. "You walk in and there's lots of people and they're all happy that you're there."
"I know that sounds cheesy, but there's such good vibes, you can't walk in there and not feel like you're a part of something bigger."