Development on Wellington Street could lead to more student housing
Halifax regional council's decision upsets local residents
January 14, 2015, 8:37 PM ADT
Last updated January 14, 2015, 8:37 PM ADT
University students living off campus could benefit from Halifax regional council's recent decision to approve a condo development on Wellington Street.
On Tuesday, councilors voted 9-6 in favour of the development to allow Dino Capital to build two towers, eight and 10 storeys, on top of a shared podium.
The property development was proposed to have 58 units where four house lots were previously located. Council voted to reduce the development by 40,000 square feet.
According to a statement from the Halifax region, amendments made to the proposal will force the development to adhere to Halifax design guidelines, which could mean more substantial changes.
In the new amendment proposal, Dino Capital indicated that while the development had been categorized as having "family type units" it is more likely that these units will be student housing, according to a staff report.
Students Christian Acari and Josee Lelievre live on Wellington Street, which is a 10-minute walk from Dalhousie and Saint Mary's universities.
Acari said he was unaware the towers had been approved but he would live there if the rent was cheap.
"It's really close to campus and it's near a park," he said. "It's pretty much all students living on the street. Everyone is friendly and I haven't heard negative comments."
Lelievre, a first-year Saint Mary's student who is new to the area, said she finds living there expensive but convenient.
Some 18,564 students were enrolled at Dalhousie in 2013, according to figures from the Association of Atlantic Universities. There are an estimated 2,800 residence spaces, according to Robert Moffat, spokesman for Dalhousie's ancillary services. Once residence spaces fill up, students have to seek off-campus housing.
"The needs of students vary from student to student. There might be some students who welcome living accommodations at the new development but it depends on their needs," said Moffat.
Steve Lumb, who has worked as a property developer for 16 years and currently works at Tradewinds Reality, said he supports the project.
"There is a global trend toward urbanization, and condos meet the needs of people who live busy lives and don't have time to maintain a property," said Lumb.
Residents like Pat Whitman, a resident of Wellington Street for five years, disagree.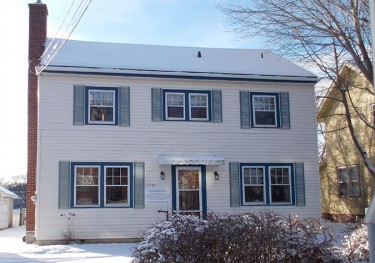 "We were disappointed in council's decision because it shows contempt for the process and community," said Whitman.
Whitman, who has attended every meeting, expressed concerns over the zoning bylaws being broken, the size of the building and the close proximity to Gorsebrook Park.
She said students and other residents should be concerned for increased traffic and hazards.
Residents weren't the only ones upset.
"The towers are too big, too tall, too dense for that site," Coun. Waye Mason (Halifax South Downtown) said. "That site should be no more than five stories as there are single family homes just south of it on Inglis."