Divestment town hall hears mixed support from students
Divest Dal reaches out Monday night to get more support
November 24, 2014, 11:18 PM AST
Last updated November 25, 2014, 3:25 PM AST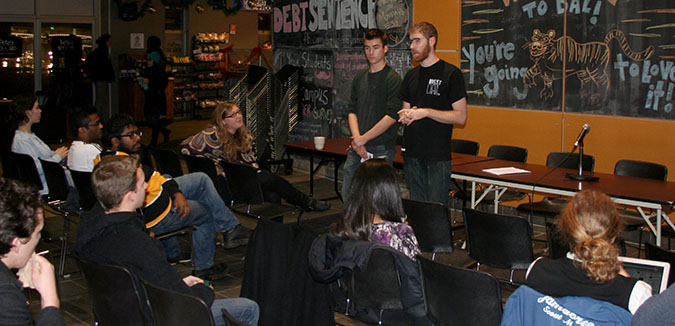 With one day remaining before Dalhousie University decides whether to divest itself of fossil fuel investments, members of the Dalhousie Student Union (DSU) and the Divest Dal initiative held a town-hall meeting for one last discussion.
Members spoke on the issue of divestment and took questions from an audience of 20 people, who expressed mixed views about the divestment issue. Some supported it while others weren't so sure.
Divest Dal and DSU members Simon Greenland-Smith and Mike Dungey started the discussion with an introduction about the organization and its views.
The companies Dalhousie invests in have quantities of carbon reserves that far exceed goals set by the Intergovernmental Panel on Climate Change, said Greenland-Smith.
The campaign, which was started 18 months ago by a group of students, picked up momentum quickly.  It now has endorsements from 2,000 students, 119 faculty members and several environmental figures such as David Suzuki, Elizabeth May and Peter Singer.
Advocates say a move by Dalhousie would be a key step in promoting divestment in Canada.
"We have a unique opportunity as the first school who is putting us through a vote. To set the standard of leadership for the rest of the country," said Emi Belliveau, a member of the Divest Dal campaign. "So Dal divesting would have a huge impact nationally, on Canada's divestment movement."
"These companies themselves have the key to the climate crisis," said Greenland-Smith. "They hold enough carbon to push us over the edge of two degree Celsius and create some really devastating effects of climate change."
"We are very hopeful for tomorrow. We are trying to rally as many students as we can for a final push so that the board of governors knows that students are serious about this issue," said Greenland-Smith
When asked which investments would replace the ones divested, they said that was not part of the Divest Dal agenda. This issue sparked some debate but the presenters had no answer.
The question of whether divestment would level the playing field for alternative energy sources was also met with a somewhat vague answer from Greenland-Smith, who moved the issue toward Dal's research involvement in the Maritime region.
A number of engineering students questioned how this move would impact them since many of them would likely work for one of these companies.
"It is not a (career) death sentence," said Jacqueline Skiptunis, VP (Academic and External).
"Eventually corporations would have to make progress, diverge from fossil fuels and invest in renewable energies or in at least look into more sustainable ways," said Ingrid Tafur, a mineral engineering student. "I think the change of companies rejecting students based on one decision is very unlikely. This may open opportunities in green policy projects."
The town hall meeting ended with a reminder that the student union will vote on the motion on Dec. 3. Dalhousie's board of governors is scheduled to vote on the matter of divestment at at a meeting on Tuesday at 2:30 p.m.