Divide in the business of divination
Witchcraft and divination involve plenty of misconceptions
January 28, 2015, 11:53 AM ADT
Last updated February 2, 2015, 5:16 PM ADT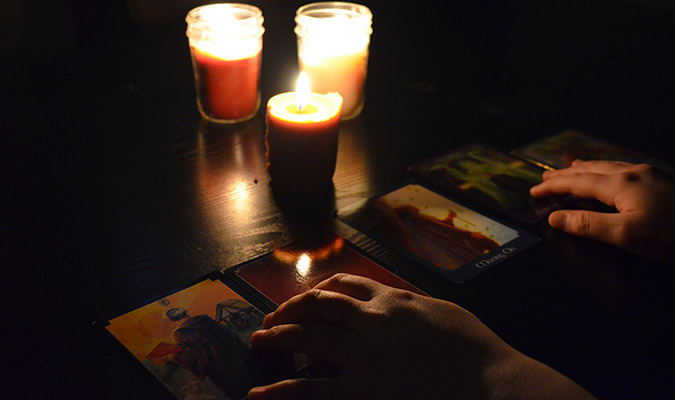 Denise LeBlanc, owner of Witchy Kitty, a spell services business in Halifax, started following the Wiccan religion almost 20 years ago.
She said she found a faith that fit in with what she already believed.
She now runs a business through Kijiji and Facebook by doing candle and tarot card readings and spells.
Her cat Soltice joined in on her readings by always lying across her card set-ups. She then knew Soltice had to be a part of her divination business, and Witchy Kitty was born.
LeBlanc says her goal in life is to be able to make a living being a writer. She has written a supernatural fiction novel that she plans to self-publish later this year.
For now, she says, "It will be a long time before I will be able to support myself in this way, so I turn to the many other areas of interest that I have. One of those happens to be my faith and the skills that I have learned through my study of Wicca."
Candle spells are a common form of magic, LeBlanc says. The colour of the candle along with particular oils and crystals aim to achieve goals like prosperity, or whatever the seeker chooses.
Tarot cards, she says, "involve choosing a card that represents the seeker and others that relate to the desire". The spell involves a cast circle, stones and herbs.
Spells, she says, are a matter of faith.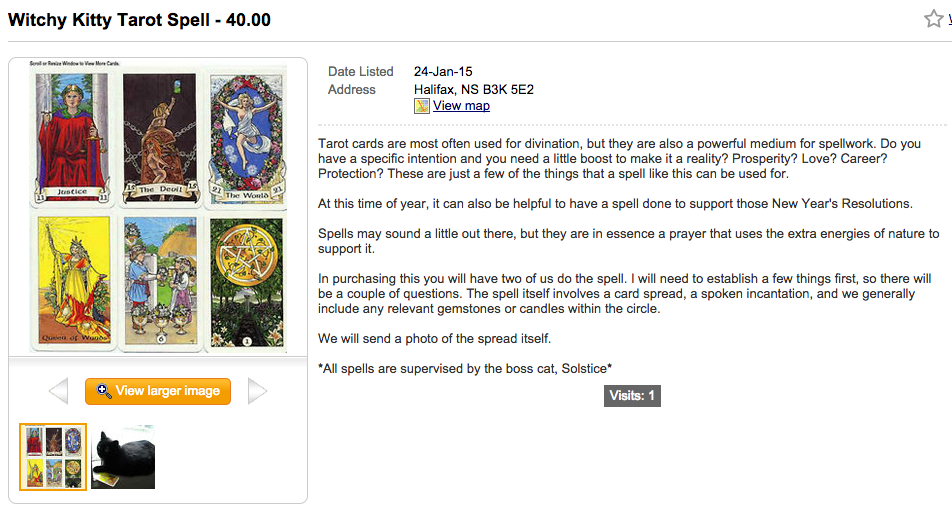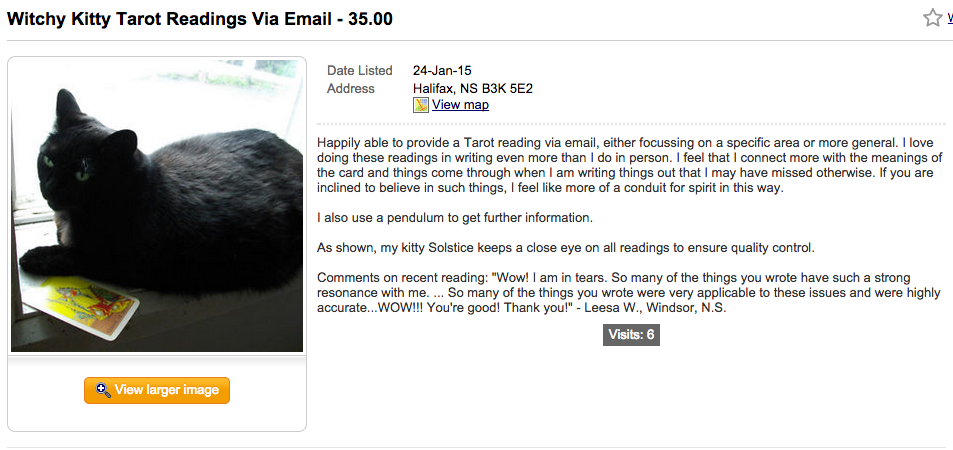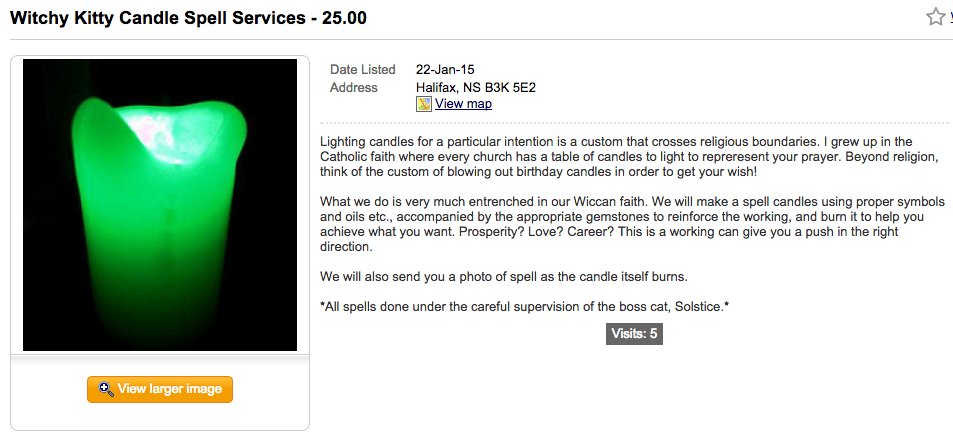 Witchcraft isn't new, but the religion Wicca is, says Kathryn Morris, director of the Early Modern Studies program at the University of King's College.
Morris teaches a class called Witchcraft in Early Modern Europe. Wicca, she says, was founded in the first half of the 20th century.
Modern-day witches don't have much in common with the witches of early-modern Europe, she says.
"Early-modern witches were believed to engage in maleficium (magic used for harmful ends) and devil-worshipping. Neither are associated with contemporary Wicca," she says.
Wicca, she says, is a religion that people practise collectively.
"Some contemporary Wiccans believe that witchcraft has a history which can be traced back to the early modern period," Morris says, "and that the witch hunts involved the illegitimate persecution of an actual pagan religion."
This, she says, is false. She says there are no records that indicate that witchcraft was practised in such a form in the pre-modern world.
The Celtic Connection website explains that "Wicca is a belief system and way of life based upon the reconstruction of pre-Christian traditions."
Worship involves nature cycles, lunar phases and seasons.
"The spells that we do involve healing, love, harmony, wisdom and creativity," the website says.
LeBlanc says it's difficult to work with skeptics.
"I can do a prayer for someone else if they don't have the knowledge of what to do, but if they have no faith it is like saying a prayer to a god that you don't believe in," LeBlanc says.
Pinky Marriott-Vaughan, a clerk at Into the Mystic, a new age store in Dartmouth, has a similar opinion on skeptics.
"Everybody has their own journey," she says, "so if they're not feeling connected or drawn to this that is not their right time to be connected or drawn to it. They may never be."
Marriott-Vaughan has a different perspective on tarot cards and divination.
Psychic skills aren't witchcraft, she says. Everybody has them.
"It's nothing to do with witchcraft. It's nothing to do with spells or witchery or anything like that. It's just purely what you believe in."
Marriott-Vaughan says Into the Mystic "brings together a community of like-minded people who follow spirituality in very different and very vastly expansive forms."
"Each to his own form. Everybody follows their own path, and their own belief system. That's what it is."