Dalhousie needs mandatory equity course, student union says
DSU has first official meeting since dentistry Facebook posts made public
January 15, 2015, 5:26 PM AST
Last updated January 19, 2015, 6:42 PM AST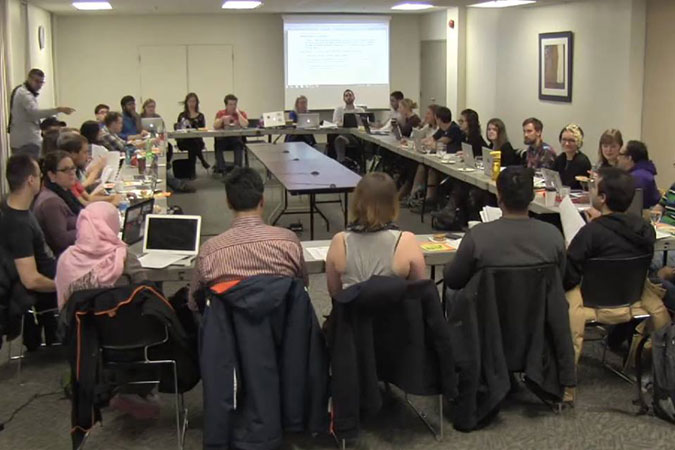 In the wake of the Dalhousie dentistry scandal, the Dalhousie Student Union wants all Dal students to take an equity course as part of their degree. The course would discuss "the root causes of gender-based violence and oppression."
Jacqueline Skiptunis, vice-president of academic and external at the DSU, said the student union will not be shaping the course, but will merely recommend to the university that there should be an equity component in all Dal students' degree requirements.
"We looked at the way other universities deal with equity and that helped make our decision," she said.
The DSU also wants all Dalhousie faculty and staff to attend mandatory training on sexism and misogyny in working and learning environments, despite originally calling for training only for dentistry faculty and staff.
Skiptunis believes these are the right moves to ensure conflicts similar to the dentistry one don't happen on campus again.
Some council members, however, opposed these motions. Two engineering representatives said they have established an individualized action plan that touches on professionalism, ethics and inclusivity within their faculty.
"I'm not sure if mandatory training for all faculties is necessarily the right step, only because I know we're taking steps best suited to our faculty," said Branwen Price, president of Dal's undergraduate engineering society.
Michael Davies-Cole, DSU's black students representative, replied, "if you've learned enough (about sexism and misogyny), then we wouldn't be having this discussion."
People also weren't afraid to voice their opinion on Twitter.
It took nearly five hours and the departure of several council members, but the DSU finally completed its first meeting since the dentistry scandal hit Dalhousie.
The meeting's primary purpose was to address the DSU's approach to dealing with the offensive and misogynistic remarks made by 13 male dentistry students in the Facebook group "DDS Class of 2015."
Skiptunis said even though there was increased interest among the public about the meeting, it still went according to plan.
Much of the meeting was spent discussing Dal's levied societies and the DSU's approach to reviewing societies. There was also a lengthy debate on whether they should extend the nomination period before DSU elections begin.
Skiptunis said she was hoping they could move on from the society discussion because it was something they could deal with in the near future, and the dentistry situation should have taken precedence.
"We need to have something on (dentistry) right now, everyone wants to talk about it right now, we have a room full of people waiting to hear about it, and we're expected to be getting answers on it constantly," she said.
Following the DSU's two confirmed motions related to the faculty of dentistry, they then held a debate on whether they should add "misandry", the dislike of, contempt for, or ingrained prejudice against men, to the second clause of the union's statement regarding the dentistry Facebook group.
The original motion said, "the Dalhousie Student Union reaffirm its support for a safer campus free from discrimination and harassment, including sexism, misogyny, homophobia and sexualized violence."
Skiptunis thought the drawn-out argument on misandry was absurd. 
"That was a very inappropriate discussion," she said. "That's not to say that misandry doesn't exist - we know it's a real thing. But we also know men are not one of the groups of people that are systemically oppressed."
"The thing that got me was even if you disagree with it, the spirit of the motion is we're dealing with misogyny. It feels a bit shitty to turn and be like 'what about them, what about them'."
The final result was to add "transphobia, race and class" to the statement and not add misandry.
The next meeting is scheduled for Jan. 28. Skiptunis says they will have an ongoing response to the dentistry situation.
"The biggest thing that we're concerned with is our students feel safe and comfortable," she said. "And if that's not happening, we amend it. We're mostly just going to see what the university does."