DSU to vote on adopting national food charter
Student-created document would commit DSU to supporting local, sustainable food
January 22, 2014, 12:30 PM AST
Last updated January 22, 2014, 12:43 PM AST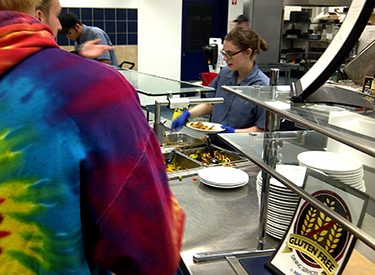 You might find more asparagus at Dalhousie University by spring. Also beet greens, fiddleheads, radishes, rhubarb, spinach and spring turnip.
It depends what Dalhousie's student union decides. It was supposed to vote on adopting the National Student Food Charter tonight, but the meeting is cancelled because of weather.
The charter was drafted by the Campus Food Systems Project, a national student initiative that aims to get local and sustainable food into university communities.
Samantha Luc, Dal's Campus Food Strategy Co-ordinator says so far DSU support for local food has been "haphazard." The farmer's market in the SUB was "a whim that turned out successful."
She says by adopting the charter the Dalhousie Student Union officially endorses local and sustainable food.
Luc thinks this year's councilors are open to the idea of taking on food projects. But "that may not always be the case."
Adopting the National Student Food Charter would make sure future councils keep the ball rolling.
The DSU's Adam Bellefontaine manages all the food vendors in the SUB. He wouldn't feel threatened by new student food initiatives. "I don't ever see it as competition. There's plenty of space and revenue to go around."
He also says local food isn't more expensive.
"In most cases I think people would be surprised it's on par," he says.
If the vote passes, Luc is looking to use the charter for projects such as food education for students living on their own.
She acknowledges that seeing results from the charter "might be a slow process but we'll count on students to take the initiatives to council."
Last year Luc tried organizing Dalhousie's own student food charter. The idea was to make one uniquely tailored to Dalhousie—for example by taking advantage of access to local fisheries.
But she says students didn't seem interested. There was poor turnout at promotional events. By using the national charter, "the language is already there to be used. So we can move forward."
The DSU hasn't yet rescheduled the meeting in which councilors will vote.