Brief
Duke U. commissioned for shipbuilding research
Nova Scotia, Canadian universities unable to offer the same scope and level of detail — province
November 9, 2012, 3:03 PM ADT
Last updated November 9, 2012, 4:39 PM ADT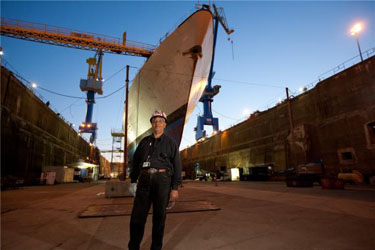 Nova Scotia has commissioned Duke University to examine how the province can take advantage of the opportunities presented by the shipbuilding contract, Premier Darrell Dexter announced Friday.
Duke will "analyze how local businesses can qualify, compete and win contracts, not only where they're already strong, but also look for opportunities for them to diversify, expand or improve their employee skill set to be competitive when those contracts come up," says Lucas Wide, media contact for the premier's office.
In October 2011 Halifax's Irving Shipbuilding won the $25-billion shipbuilding contract to build 21 Canadian combat ships.
Local and Canadian universities were considered for the job, but no university could offer the same scope and level of detail as Duke, says Wide.
The province hopes to get the results back in early 2013.
The cost of the study is $135,000.
UNews is following this story and is awaiting comment from Nova Scotia universities.