Ecolympians vow to power down
Dalhousie residences are going eco-friendly for two weeks, vying for the title and free movie night
February 10, 2014, 1:36 PM AST
Last updated February 10, 2014, 5:40 PM AST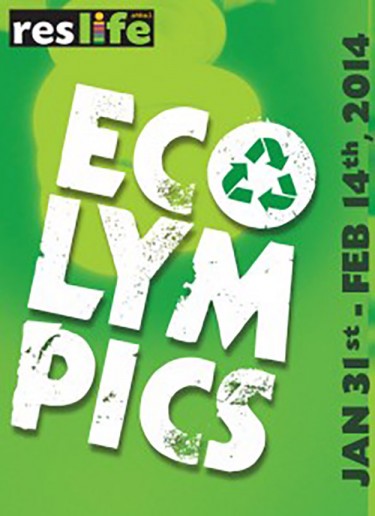 For the next week, Jasmine Burchell will be taking shorter showers, turning off all her dorm room lights and making sure she doesn't leave her electronics plugged in when they're not being used.
It's the fifth annual Ecolympics at Dalhousie University and residence students from the Halifax and Truro campus are going head to head to see who can be the most eco-friendly.
The competition is being tracked at Dalhousie's Dashboard (link). The website shows in real time which residences have reduced their environmental impact and by how much. Sherriff Hall is currently in first place and has reduced its consumption by more than nine per cent. These results will be used to tabulate the winner.
Burchell, a first-year science student, says she's always been interested in environmental issues. She says she's excited that she can share her passion with her fellow residence mates in this friendly competition.
"I think it's a great way to increase the morale around residence but for a good cause," she says from her dorm room in Gerard Hall, which is currently in second place with a 5.3 per cent reduction of water and electricity.
"This is something I'm passionate about and my peers can be passionate about too."
Victoria Oliver, a first-year engineering student, is an organizer of the Ecolympics at the Truro campus. She's the residence sustainability representative for the school and she jumped at the opportunity to bring this to her campus. This is the first year the Truro campus has competed in the competition.
"Sustainability is something that applies to a lot of the degrees here. It's interesting to learn about how much you really use. I think its eye opening and people need to think about it a little more," says Oliver.
To keep people motivated, Oliver, along with others in the residence sustainability committee, have organized fun activities such as sweater day, where students are encouraged to turn down their heat and put on a sweater, as well as an eat-locally themed day at the meal hall.
She says she hopes people "take the time to come out to that sort of stuff."
Raja Ubhi, the residence sustainability representative for the Halifax campus, says the Ecolympics is the "premium" event of the year for him and the group he leads, the Green Residence Forum.
Ubhi says the overall goal of the Ecolympics is to reduce electric and water consumption in the residences, while at the same time making people aware of their own habits.
"Often students take [resources] for granted living in residence because you don't get bills," he says.
He says he hopes the event will change the way people monitor their water and energy usage and he says the best way to achieve that is being mindful.
"Engage your mind. If you actively start to behave a certain way, it's your mind that will have the biggest impact," he says.
The contest will come to a close on Friday. The winning residence will take home a trophy and free movie night.
There are over 2,000 students living on campus at Dalhousie.