Electronic cigarette bill slowed by opposition
PCs and NDP are pushing for clause that would ban the sale of flavoured tobacco and e-juices
November 13, 2014, 7:12 PM AST
Last updated November 14, 2014, 3:59 PM AST
The controversial e-cigarette bill, officially known as Bill 60, continued its slog through the legislature today, with the opposition continuing its efforts to delay the bill's passage.
The bill aims to regulate the sale and use of electronic cigarettes and water pipes, such as hookahs.
Members from both the Progressive Conservatives and the New Democrats took issue with the Liberals dropping two clauses banning flavoured tobacco and e-juices from their own bill last week.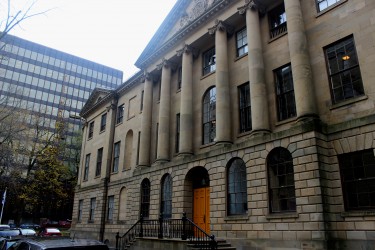 The opposition sought to re-insert the clause banning flavoured tobacco, but without an exemption for menthol cigarettes, arguing that such products are targeted towards minors as a gateway into smoking.
"It is the right time to do the right thing," said PC Alfie MacLeod, MLA for Sydney River-Mira-Louisbourg.
Maureen MacDonald, interim leader for the NDP, believes the Liberals originally included the menthol exemption to appease the tobacco industry.
But both opposition parties said they would drop their opposition if the bill included the original clauses banning flavoured tobacco and e-juices, minus the menthol exemption.
Premier Stephen McNeil insists his party is listening to both the opposition and Nova Scotians in delaying the bill's implementation until May 31. He said the extra time will be used for consultation on possible changes or new exemptions.
"We are not willing to turn a blind eye towards the health effects… of e-cigarettes," said Randy Delorey, Liberal MLA for Antigonish.
Bill 60 originally included clauses banning flavoured tobacco and e-juices, which are used in electronic cigarettes to produce a nicotine vapour.
The bill does not ban e-cigarettes themselves but does ban their sale to minors and limits their use to designated smoking areas. Businesses that sell e-cigarettes where minors are present would also have to conceal the vaporizers, as they do for regular tobacco products.
However, the government met backlash from members of the public who say flavoured e-cigarettes are an effective method for quitting smoking. Businesses such as hookah bars also said they would be disproportionately affected by the bill to the point where many would have to shut their doors.
Opposition members cited studies from institutions such as the Canadian Cancer Society, including claims that one in seven males in high school have used flavoured tobacco in the last 30 days. One MLA said she performed research by going "incognito" to schoolyards to observe youth tobacco use and speaking with tobacco retailers in the area.
Debate on the topic is expected to continue in future meetings.