Ethical end-of-life laws are possible, says prof
Australian academic Peter Singer told a Dal audience that practices worldwide are disproving the fear of a slippery slope leading to patient harm.
November 15, 2014, 6:29 PM ADT
Last updated November 17, 2014, 2:52 PM ADT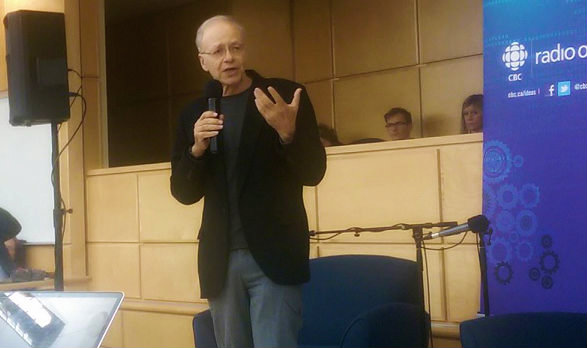 Legal and medical communities worldwide have proven they can work together to craft ethical laws governing end-of-life choices, an Australian moral philosopher told an audience at Dalhousie University last night.
Peter Singer, a professor of bioethics at Princeton University, gave a lecture to a crammed classroom of about two hundred, Friday, at the Dalhousie Weldon Law Building on the topic of assisted dying.
"This is a movement I think is clearly spreading," said Singer, citing success in countries such as the Netherlands and Switzerland influencing states in the U.S. such as Oregon and Washington into passing assisted dying legislation. He believes these case examples, dating back into the '80s and beyond, refute the argument of a slippery slope which many opponents of assisted dying use, fearing that such policies could lead to the state killing off people who are seen as a burden.
Much of the current discussion on assisted dying, he said, has come about as a result of changes in society's perception of life. Medical communities have transitioned from protecting the sanctity of life and now attempt to grade patient care on quality of life, acknowledging that there are qualities of life that are not worth living. He cited the Netherlands, where certain conditions, such as the presence of a terminal illness or the failure of other forms of palliative care, must be met before assisted dying is considered.
Even then, policies in place such as requiring the permission of two physicians, waiting periods in between the consultations and allowing patients to take a life-ending medication on their own terms, are used as safeguards against potential mistakes in the procedure.
Singer's talk touched on the ethics and morality of the questions surrounding assisted dying and euthanasia at a time when Canadians have been discussing these issues at a national level.
In June, Quebec passed Bill 52 outlining conditions in which the terminally ill could receive medical assistance in dying.
In October, the Supreme Court began hearing arguments in the case of Carter vs. Canada, which cites Section 15 of the Canadian Charter of Rights and Freedoms as discriminatory against people with degenerative diseases who cannot end their own life and must seek assistance to do so.
This hasn't been the first time society has "redefined" death, however. Singer spoke at length about how the introduction of respirators in hospitals initially proved troublesome for doctors. Medical wards quickly filled up with patients who had no hopes of regaining consciousness but who were otherwise alive. It wasn't until South African cardiac surgeon Christiaan Barnard began performing human-to-human heart transplants that the perception of removing organs from people in vegetative states was not seen as killing a patient but in fact saving another person's life.
"My aunt was on life support… so my family had to make that decision," said Karen Langille, a first-year social worker at Dalhousie, who was at the lecture. "It really made me think about that. Like what would I do? How do you support someone going through that?"
"I think we should have that choice though, in Canada we should have that right," said Hilary MacDougall, another Dalhousie student. "I wouldn't want to be terminally ill or…"
She trailed off, Langille interjecting: "We talk about it, but it's easier said than done."
Singer's talk was the first in a series of lectures honouring Sir Graham Day, a business executive and lawyer from Nova Scotia.