Feds aim to retain R&D students with $1.2M
November 15, 2012, 10:51 PM ADT
Last updated November 15, 2012, 10:57 PM ADT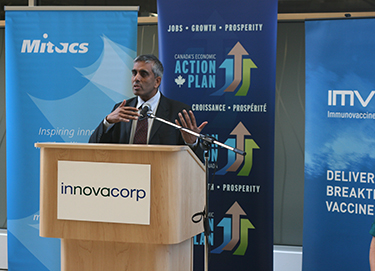 Ottawa announced today it will spend $1.2 million on more than 100 internships for researchers in Atlantic Canada.
Two research internship programs will be delivered through Mitacs, a British Columbia-based not-for-profit research and training organization.
MP Scott Armstrong was at Immunovaccine's Summer Street offices to make the announcement on behalf of the Atlantic Canada Opportunities Agency (ACOA).
Armstrong said "Atlantic Canada is home to some of the brightest minds and best learning institutions," and that it's important to keep these future innovators here at home to maintain Atlantic Canada's leading edge." Successful candidates will be placed in Atlantic Canadian universities and private sector companies in two internship programs:
The Accelerate program:
offers 93 internships to graduate and PhD students
provides interns the opportunity to transfer skills from theory to real-world application
aids companies by providing interns who are highly skilled researchers
The Elevate program:
offers 21 internships to PhD graduates
provides a foundation of research, business and scientific management skills to new PhD graduates
aids companies by offering access to highly qualified, uniquely trained pool of talent
Armstrong recognized the hosting company, Immunovaccine Inc., as one of the most "innovative, promising, bio-tech companies in Canada."
Avind Gupta, CEO and Scientific Director of Mitacs and a professor at University of British Columbia, says the Accelerated Internship program works as follows:
Mitac and a company sponsoring an intern contribute $15,000 of funding over a four-month period
the student gets at least $10,000
the professor can use the rest to cover "equipment, travel costs or materials because there are other research costs with doing these programs"
Gupta explained that master students can apply for four- to eight-month internships and PhD students can do four to eight years depending on the size of the program they are working on.
Nicole Rosin, a fourth-year PhD student said today's announcement was interesting and plans to apply for one of the internship programs.
Venkatachalam Ananda, a Dalhousie biology student who has her master's degree from Dalhousie and works at Immunovaccine Inc., says the company's new high-tech location makes it convenient for the close work they do with Dalhousie University.
Immunovaccine is one of the companies partnering with interns and Mitacs. CEO John Trizzino credits the company's 10 years of growth, from a small Dalhousie lab to a country leader in research and development, to investment that has fostered research innovation and academic collaboration. Trizzino says both innovation and collaboration are two key components for their continued success in developing vaccines which target "cancer, infectious disease and animal health."
Gupta says young people have to be challenged by society "to ask new questions they wouldn't normally ask." Of Gupta's 22 PhD students, 25 have gone to the U.S., so he is particularly passionate about keeping students in Canada. This is the largest funding Mitacs has received from ACOA to date. The company expects to have 25 internship projects ready to go by March 2013.