Female farmers becoming cultural norm
Island girl pursuing a career in organic farming is just one of many
February 15, 2014, 4:10 PM AST
Last updated July 4, 2016, 10:10 PM AST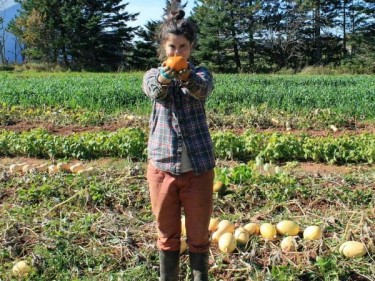 Stephanie Dewar loves to pick rainbow chard – building bouquets of yellow, pink and orange.
"When the sun is coming through them it's almost like stained glass," says Dewar, of Summerside, P.E.I.
She loves working the land – rich earth, warm sun and the satisfaction of being self-sustaining. That's why she wants to be a farmer.
It might strike some as funny to hear of a 25-year-old woman wanting to be a farmer. Dewar says to think of farming as a masculine profession is merely to have "preconceptions or misconceptions about who a farmer is or what goes into farming."
The preconception being of a wholesome, romanticized character who laboriously toils the land, who is utterly irreplaceable and yet completely underappreciated by society. This character – clad in plaid or double denim and a mesh backed trucker hat, with a wholesome smile, calloused hands, and a weather beaten face – is stereotypically masculine. In doubt? Take a look at an ad campaign running on billboards across the municipality.
With no background in agriculture Dewar had the initial understanding of farming as a large- scale monoculture operation, like potato or dairy farming, usually run by a man, though often in partnership with a spouse.
Overall inspiration
Dewar didn't always want to be a farmer, but was gradually awakened to her dream. After completing a degree in marketing at McGill she travelled to South America and worked on homesteads and at garden retreat centres. Then, while studying international development with the Cody Institute at St. Francis Xavier University, she had the opportunity to intern with the Caribbean Farmers Network in St. Vincent and the Grenadines. When back in Canada she got a job with a non-profit group and studied a distance certificate in food security and urban agriculture with Ryerson.
"The more I was working in an office and studying food security and urban agriculture from a desk, the more I just wanted to actually be out in the field," says Dewar.
Last summer she did an apprenticeship at Heart Beet Organics in Darlington, P.E.I., where she worked almost exclusively with women.
Discerning direction
To know if farming was for her Dewar did a self-analysis course called "Exploring the Small Farm Dream." She wasn't disappointed. She knows farming won't be easy though. "It's a risky venture and a lot of hard work. You really have to be all in."
Dewar says her marketing degree will be of great value in understanding of crops, cost and consumers.
"On P.E.I. everyone wants yellow beans, and you just know you've got to grow yellow beans," says Dewar.
Organizing a farm requires extensive spread sheets and maps of vegetables, crop rotations and dates for starting seed trays and transplanting. "It's really intricate planning," says Dewar. "It all depends on the first frost date and last frost date of the season."
As for the question of realistic physical limitations, "sometimes men are just stronger," says Dewar. She says that while a few extra inches or pounds of muscle wouldn't go astray, farming also requires you to be a nurturer, to be observant, have attention to detail and be able to multitask. It's also important to know proper techniques so as not to pull any muscles or hurt your back.
Agricultural Education
Wayne Paquet of the registrar's office at Dalhousie's Truro agricultural campus says recruiting based on gender has never been a focus. "If anything we've talked about, 'where have all the gentlemen gone?'"
Last semester they had 597 female students and only 377 males enrolled in their graduate, undergraduate, and technology programs.
Certain programs do attract more women or men. The equine and veterinary programs attract more female students and the dairy farming program is mostly enrolled in by men. Agriculture is fairly even.
Cultural misconceptions
Lauranne Sanderson, department head of business and social science in Dal's Faculty of Agriculture, runs a perennial operation with her husband. She was raised on a farm and has a degree in agriculture. She says for students now it is different from when she grew up when it was "culturally unusual for women to take over the farm."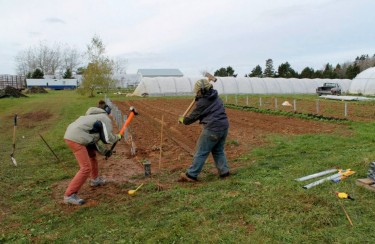 "It used to be that the males inherited the farm." Sanderson says that while there may still be some bias towards men, "now it's more a question of people's aptitude and desire." She says that regardless of gender, if you are not taking over an existing operation then large- scale farming is financially difficult to get into.
She says the attitudes in small- scale organic farming are much different than in farming livestock or monoculture crops. "People who are interested in organic farming tend to be younger, they tend to be entrepreneurial, they tend to have a belief in a certain kind of system, whether they're male or female."
Organic operations
Many organic farmers within the Atlantic Provinces are involved with the Atlantic Canadian Organic Regional Network, or ACORN, a non-profit organization which supports sustainable organic agriculture. Its Grow a Farmer Program helps minimize start-up barriers for new farmers, furthers the organic agricultural market and helps increase land access to farmers. They also help aspiring farmers acquire apprenticeships.
Amy Smith and Verena Varga began Heart Beet Organics in 2010. While Smith is from Massachusetts and Varga from Germany, they chose P.E.I. because it was a financially feasible location to start their farm.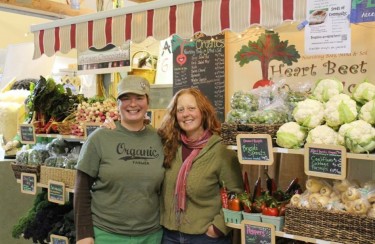 Disenchanted with careers in social work and journalism they had undertaken apprenticeships at organic farms and gardens and loved the lifestyle. Their philosophy is to give back to the earth as much or more than what they take out.
"We've done so much to degrade our soil from chemical farming," says Smith. Organic farmers strive to bring balance back to the soil. They learn something new every year. "It's a growing experience," says Varga.
Women welcomed
When looking to get involved in organic farming on P.E.I. they consulted already established farmers for advice. "Six out of seven were women," says Varga.
In making their new career choice being female "didn't feel to be any factor at all," says Vargas. Though like Dewar, she says the only real struggle is lifting heavy equipment. "Tractor implements and tools generally are not made for women in this field of work."
Smith says they might have a different experience should they be trying to take on large commodity farming, but in the organic sector they have been very welcomed and supported. They often attend conferences and meetings with other organic farmers where many women are in attendance.
Career calculations
Mainly Smith and Varga sell their produce at the Charlottetown Farmers Market, but they also operate a Community Supported Agriculture or CSA program. Consumers pay up front for a season's worth of vegetables and receive a weekly basket.
They sold $65,000 worth of product last year, growing 40-plus different crops on an acre and a half of land. With high quality crops and some strategic marketing a new farmer can make a profit relatively quickly, with little initial debt or investment of equipment. Since they grow a variety of vegetables they have some wiggle room if one crop fails due to a bad season.
The organic sector is also highly committed to training the next generation of farmers.
"It's a reality of our current farming community that most farmers have been men and they're getting older. We need new farmers," says Smith. "It's a great opportunity for women to start a business, raise a family and have a high quality of life."
She says while millions won't be made, small scale farming offers financial stability if done smartly.
"There are a lot of women starting organic farms," says Varga. She believes the trend will continue as consumers become more aware of the current food system and see how important it is to know where food originates.
Stephanie Dewar hopes to buy land and start her farm within the next five years. Though, her first step is to keep apprenticing – gaining experience from as many farms as possible.
"There's so much to learn and you can't learn it all in one season."