Few SMU students show for consultation session
Advisory committee held first session to hear Saint Mary's students' perspectives on sexual consent
November 8, 2013, 2:47 PM AST
Last updated January 10, 2014, 8:49 AM AST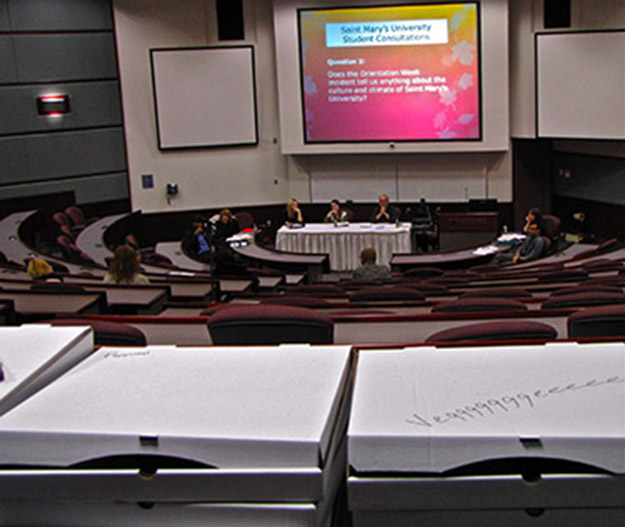 Perhaps the rain kept students at bay, but the first in a series of sessions on preventing sexual violence on campus had poor attendance and a lot of leftover pizza.
Of Saint Mary's University's 7,800 students and staff, at most 20 individuals showed up to a consultation session with the President's Council Thursday afternoon – a number that left the chair wondering if Saint Mary's students were tired of being judged on their attitudes towards tolerance.
"Perhaps one of the explanations – apart from weather and such things – that there weren't as many people out is that some people have felt like we've talked this to death and that it's time to move on," said Wayne MacKay, chair of the council. "But I think a fear – and I think from a council point of view is a misguided fear – that they'll be judged yet again [is the real reason]."
Better attendance was hoped for at the Scotiabank Theatre in the Sobey School of Business, as 25 pizzas and a large bin of refreshments later found home at Adsum, an organization for women, youth and children dealing with homelessness.
Saint Mary's administration created the President's Council following controversy over a frosh week chant that promoted non-consensual sex. Its goal is to foster a cultural change to prevent sexual violence and inspire respectful behaviour and a safe learning environment within the Saint Mary's community after the school garnered negative national attention.
This consultation session was supposed to gather student perspectives on the matter, and start the movement towards further student engagement with this campaign.
MacKay was chosen as chair because of his previous background as chair of human rights at Dalhousie University's law school, and for his recent work on Nova Scotia's cyberbullying task force. He stressed that this is not a negative blaming exercise.
"We're not here to judge and we're not here to comment back," he said.
"The environment is so delicate on our campus right now," said Gorba Bhandari, President and CEO of Saint Mary's University Student Association.
"Students who've been through it, who are the leaders and were really involved with student association and activities on campus, are kind of scared to go on with activities like this," he said.
Although disappointed with the turn out, Bhandari was happy with the quality of answers to questions from those who came, something MacKay agrees with.
"Though quantity was small, the quality was genuinely very high and we may have had a more honest dialogue because of that," he said of the personal conversations regarding consent.
Many expressed how they felt the chant was not representative of the climate of the Saint Mary's community.
"I'm not worried about my daughters' safety in any way shape or form," said Steve Proctor, the communications manager at Saint Mary's University who has two daughters enrolled in the institution.
"I'm disappointed that so many people could get caught up in something without really thinking about the consequences of what they were saying. But I don't think it's a reflection of the culture on campus."
Moving forward with a positive outlook
Bhandari believes they have to start from the ground up to foster a community of comfort.
"We have to start from zero again to explain that it's alright to come and talk to us and take the fear out of them now," he said.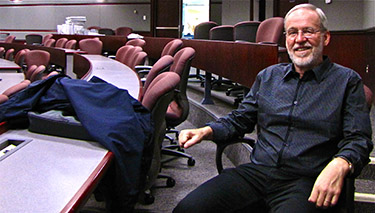 He hopes those who made the choice to participate in the chant aren't dissuaded from continuing to contribute to the community.
"If you've done a mistake, work on something better; work on the campaigns that would allow nothing like this to happen again," he said.
Those who did attend the meeting did not wish to share their comments with the media.
To contribute to this conversation anyone can do so by visiting the Saint Mary's website. The results of this study will be revealed Dec. 15.