Finding a comfortable workout
Judgment and intimidation reasons why so few young women in the weight room
January 16, 2015, 5:53 PM ADT
Last updated January 16, 2015, 6:18 PM ADT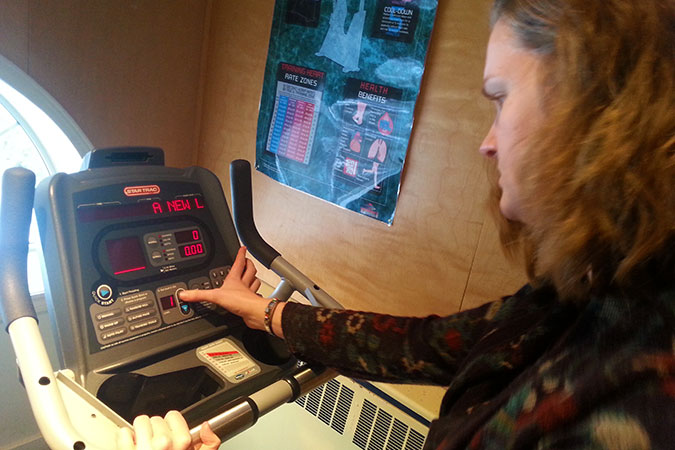 When you think of a gym, several words come to mind - strength, sweat and effort. But what about worry? Discomfort? Some female university students feel eyes on them and begin to feel self-conscious when working out.
When you Google 'women at the gym', six of the first eight hits are about picking up women at the gym. Two are about proper training for women at the gym.
Rachael Bethune is a residence don at the University of King's College, where she herself studied. She hasn't always worked out, but when she started she was unsure of how to go about it.
"Guys are encouraged at an earlier age to go out and do things like lifting weights, while girls are directed more towards cardio and very low-weight, high-repetition workouts," Bethune said. According to a study done in 2010 by Springer Science, there are 11 men for every woman focused on muscle gain.
Gyms can be intimidating for newcomers, for fear of looking foolish in front of seasoned veterans.
To help combat this, Bethune helped organize an event called Find your Strength in November. The two hours were split with one for women and one for men, in order to provide a sense of comfort. She hopes to have women-only times added to the gym hours, but the small space is rather limiting.
"How helpful that is in terms of setting up space where everyone feels comfortable by splitting it up into chunks, could be as counterproductive as it would be productive," Bethune said. "It's something I'm struggling with, how to change the space in that way."
Bethune says a woman in the weight room is seen as a rarity and when there is, gym goers take notice.
"Guys who didn't mean to make me feel uncomfortable would be visibly surprised to see a lady in there, which obviously I didn't like," Bethune said. "Especially when I was still trying to learn, it was very frustrating."
Bethune was thankful to have a male friend who worked as a health promoter who taught her proper technique and workout basics.
King's isn't the only school with uncomfortable gym patrons.
Saint Mary's student Reem Karaballi avoids certain parts of the gym.
"One of the sections in the Tower is the weight room, I actually don't go there just because there's a lot of guys and most of the time they're just there staring."
Female students, whether they're intimidated or not, are conscious of judgement at university gyms.
"I've never felt scared going to the gym," says Dalhousie University student Brogan Carruthers.
"I mean sometimes you can feel uncomfortable, but that's because there's a lot of people."
"It's just something that society has put on people that you constantly feel judged and there's obviously a dominance approach on women in our society that's systemic."