Full-time students, part-time princesses
Two Dalhousie theatre students are paid to be royalty
February 4, 2015, 9:05 AM ADT
Last updated February 4, 2015, 9:48 AM ADT
Rachel Smith and Madeleine Tench by day, Tinkerbell and Tiana by night. These two Dalhousie theatre students/triple threats moonlight for Fairytale Friends: Children's Entertainment Canada, as Disney princesses at birthday parties and special events.
Smith plays Aurora (from Sleeping Beauty) and Tinkerbell. Tench has three 'go-to' characters — Tiana, from the Princess and the Frog, and Iridessa, one of Tinkerbell's fairy friends. Smith also came up with her own character, Sally the Pirate, who sometimes accompanies Tinkerbell.
Just out of dance class at Dal, the pair are still in leggings. But with Smith's pixie-like features and Tench's animated tone, the pair are like a couple of plainclothes princesses.
Here is what they say being a princess is all about.
"Being kind and having good manners," Smith says, who has definitely got that down pat. "Being polite and sweet to others, being an all-around good person. That makes a good princess."
"Confidence is a big thing," Tench chimes in. "It's always good to be fun. Elsa (from Frozen) is a bit more reserved, but most of us princesses love to play games and things like that.
"We love to sing, we love to dance. Oh goodness, we love balls. Balls are the best. Rapunzel is crazy about cupcakes. She loves cupcakes. … We go to a lot of tea parties where we just eat cupcakes and biscuits."
"It's great," Tench laughs. "The princess life is awesome."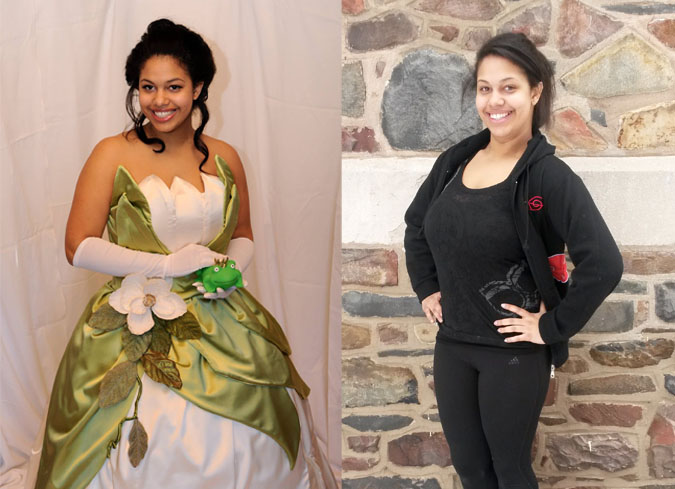 Putting their princess face on
When Smith started "doing princessing" about a year ago, she had to learn the art of princess makeup. It's a bit more theatrical than her everyday eyeliner and mascara. "It's very beautiful and I just wanted everything to look good. It took time."
"Whenever I do princess makeup," Tench says, "I always think I have super-bad cake-face. But then I put on the dress and …It all fits in with the dress and wig and everything."
The biggest focus? "The eyelashes."
Strong princesses don't need no man
In the movies, every Disney princess has her prince. But more often than not, these princesses leave their men at home. She says the core staff of Fairytale Friends is all female, but occasionally, upon request, they scrounge up a couple of Prince Charmings.
"We used to have princes," Tench said. "But princes are, you know, unpredictable and things like that."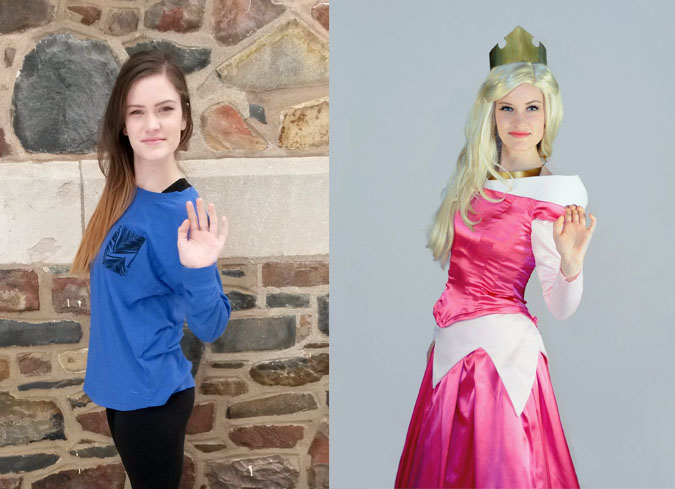 Tea parties and birthday bashes
Tench and Smith both think the Princess Tea held in partnership with the Children's Wish Foundation is one of their favourite events to go to as princesses.
"We get to meet all these wonderful little boys and girls, and kinda make their dreams come true," Tench says. "I know that when I was little I would have lost it if I got to meet a princess."
Most of the time when Tench and Smith put on their princess faces, it's for a birthday party. They go to a lot of birthday parties. "Like, a lot," Smith said.
Her next party is in two weeks' time.
"Usually it's more frequent than that but Madeleine and I are both in a play over at school." They say that Saturday is the most popular day for birthday parties and for all-day play rehearsals. Even princesses have scheduling conflicts.
But they say Fairytale Friends can make do without Tinkerbell and Tiana until their play is over.
"It's the winter of Anna and Elsa," Tench says.
"Oh 100 per cent," Smith added.