Game on for HFX Sports Bar & Grill
Sports fan 'palace' offers 100 TVs, custom game feeds
January 14, 2014, 10:27 AM ADT
Last updated January 15, 2014, 11:23 PM ADT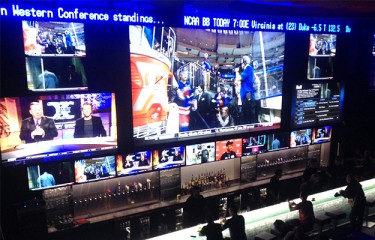 After months of construction and anticipation HFX Sports Bar & Grill opened its doors Monday evening.
The former Palace nightclub has been transformed from a dingy nightclub to an upscale mecca for sports enthusiasts. Potential patrons were trying the door throughout the day to be amongst the first to try out the new bar and grill, and within minutes of opening its doors about three-dozen customers made their way in. Many came for a quick drink, more than half stayed for a meal and some came just to look inside.
"There are lots of TVs … that's what you need in a sports bar," said Mark Delaney after his first try.
Delaney was impressed with the look and feel of the bar and believes this is just the type of venue the city needs.
"Halifax is a sports town," says Delaney, adding that we have a number of events, teams and fans around the city.
The bar's general manager Brendon Boyd wants his customers to experience a wow-factor.
"I want everyone to walk in here and be blown away. Halifax has seen nothing like this."
The owners of HFX Sports are brothers Marcel and Michel Khoury, who also run the Halifax Alehouse. Both were in attendance as the first customers were sat. The brothers spent approximately $2.5 million during the months of renovation, and it shows.
"They have definitely taken the look of a Halifax sports bar to a new level," said Jennifer DeYoung after her meal.
"It's obvious they have an eye for detail," DeYoung said, adding that she found the bar a little pricey.
Custom game audio feed in booths
The bar features more than a hundred televisions and some within private booths. The feature piece is a large screen spanning two levels behind the bar with a number of screens surrounding it. Above the screen is a constant sports ticker that is about a foot high and spans the screen's length.
Customers will be able to listen to the play-by-play of the main screen throughout the bar. They also have the option to download an app on their smartphones, which will give the audio feeds to specific TVs. This allows patrons to choose which game they want to follow. Even USB charging outlets have been placed throughout the building so that patrons need not worry about draining their phone battery.
"It is a state-of-the-art technology," says Michel Khoury, adding that they bought the technology from its inventor during a recent convention in Las Vegas and it is one-of-a-kind in Canada.
HFX features 36 taps and is fronted by what appears to be backlit glass. There are a number of cozy nooks throughout and plush circular booths surround the main floor.
The former Palace's dark halls have been replaced with backlit red and blue lights that make the place seem a lot brighter, even when the overhead lights are dimmed. The menu is presented in a leather-like binder and its 15 pages are printed on thick, glossy pages. The ambiance feels less like a sports bar and more like a swanky martini lounge.
Khoury agrees the bar's first real test will be Wednesday night when the Halifax Mooseheads have a home game.
"There will be a lot of people all coming and looking to eat at once," he says.
Khoury hopes HFX will appeal to a broader demographic than the former Palace. He says this bar can appeal to families, sport fans and lounge-goers on a daily basis, where the Palace really appealed to a 20-something crowd about three nights a week.
Khoury said the bar hasn't yet finalized its plans for the Olympics and Superbowl.