Halifax breaks Guinness record for texting
Bell event aimed to support mental health initiatives
February 12, 2013, 11:52 PM ADT
Last updated March 6, 2013, 4:14 PM ADT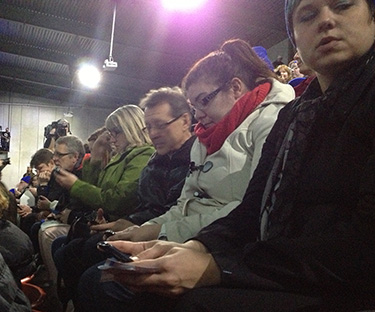 More than 1,000 people piled into Halifax's Metro Centre today in support of Bell Aliant's Let's Talk Day.
They broke the Guinness World Record for the most people sending a simultaneous text message. The participants were trying to break the record in support of a Bell Canada mental health initiative.
One thousand seven hundred and two messages were sent – a number verified by Bell employees and volunteers, who checked every phone in the Metro Centre to ensure the proper message had been sent without misspellings. With only 59 "spoiled messages," the total trounced the previous record of 677 messages, held by Pine View High School, in Utah.
Hosted by CTV personality Seamus O'Regan, Halifax mayor Mike Savage, employees of Bell Aliant and Guinness World Records adjudicator Philip Robertson were also in attendance.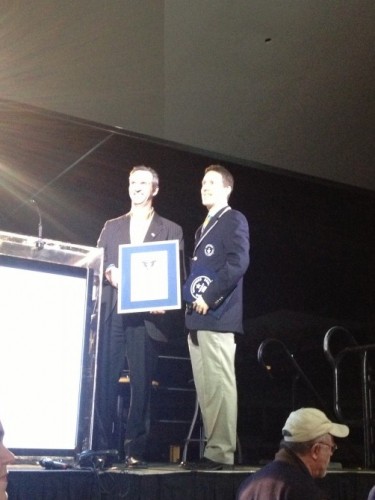 As part of Bell's third annual Let's Talk Day, the company vowed to donate five cents to mental health awareness programs for every text or long distance call made from a Bell phone, Facebook share of Bell's Let's Talk image and every tweet using #BellLet'sTalk. This is in addition to a $15 million investment for promotion and support of mental health across the country, in 2010.
Mayor Mike Savage spoke with the crowd before the texting record began, saying "we're having fun, but suffering from a mental illness or watching someone we love suffer is no fun."
Savage hopes that through events like today's, people will become comfortable talking about mental health, breaking down the stigma attached.
One in five Canadians will experience a mental illness at some point in their life, while only one-third of people who need mental health services receive them.
"We're trying to promote a greater recognition and openness about mental illness," said Dawn Boylan, employee with Bell Aliant.
Events took place across the country to promote Let's Talk Day, but Boylan said Halifax wanted to do something special.
Bell donates to mental health initiatives, 5 cents per text and Tweet:
5cents for each Bell text and #BellLetsTalk tweet
5cents for each Bell text and #BellLetsTalk tweet
http://storify.com/unewsca/bell-donates-to-mental-health-programs