Halifax cam girl is just a 'normal person'
Nicky Parker makes $150 an hour and recommends the job to any "strong-willed person with a good personality."
January 31, 2014, 7:14 PM ADT
Last updated February 3, 2014, 10:53 AM ADT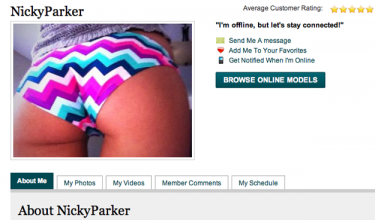 Nicky Parker, 23, is like many young women her age.  She enjoys movies, hanging out, cooking and her cats.  She is attractive: tall, long dark hair and slender. This week she will make between $1,000 to $2,000, working 10 to 12 hours.
Parker started stripping for cash online while taking courses at Dalhousie University more than a year ago.  Parker, who grew up in New Brunswick, worked in retail when she started school, but quit by the end of September when the demands of her courses made it hard to balance her work life.   However, student loans were not enough to pay her bills.  She decided to try making her money online.
"I had heard about it probably about three years ago now and I always kind of thought 'That would be interesting' but it was almost taboo… and then one day, I was like, 'Why not?'… it kind of just fit perfectly at the time," Parker remembers.
She chose the screen name Nicky Parker because she always liked the name Nicky and Parker just seemed to fit. UNews is referring to her by that name because exposing a real identity can be dangerous in her industry. She started to entertain customers online and eventually left Dal due to feelings of anxiety and being overwhelmed by school.
"It wasn't necessarily the money that I was making that made me quit, because I could still go to university and still make the same amount of money," she says at the Lacewood Drive Starbucks. Instead, she says she wasn't sure what she wanted out of university. She wanted to make money and figure out her future on her own.
She averages about $150 an hour.  This sum is only 35 per cent of the total amount paid by customers. The rest goes to the hosting website.  She has met a number of young women online — across North America — who pay for their educations by doing what she does.
"The majority of us are just actually normal people," she says.
"I don't feel like I'm selling my body.  I feel like I am kind of selling an image of my body, kind of like a fantasy of it," she says, adding that it is not much different than being a cocktail waitress.
"You're being friendly, nice, flirty, you have to look good to get tips.  It's the same thing."
The ins and outs
Cam girls perform sexual activities for pay.  Often customers come to cam sites to quell fetishes they cannot experience in their normal life.  Parker says foot fetishes are common and she doesn't mind putting her best foot forward.  However, some requests are more disturbing.
"There is a whole niche for age play. Like, people want you to pretend that you are underage.  I don't do that, that is not OK with me," Parker says, adding that she would tell that client to go away or block them if necessary.
There are strange requests as well.
"I have this one guy, he wanted me to just sit there and fart for him.  I was like, 'Listen, I don't do that on queue and I don't do that on cam."
Parker likes the fact that she can set her own hours, that the time required is minimal and that she can add funds to her savings.  She also likes the interaction and the constant flattery, which definitely boosts her confidence.
Customers occasionally will buy items for her off an Amazon wish list she created. The list contains items including make up, jewelry, gift cards, and a Xbox One gaming console. One customer even arranged for a limousine to take her to the airport for an upcoming vacation to Mexico.
What she doesn't enjoy is the cattiness that occasionally comes from other cam girls.
"They'll make fake accounts and go into girls' rooms and say stuff like, 'Oh, you're so boring', 'You look so ugly', 'You have gap teeth'," she says.
The job can also be difficult on relationships; Parker is currently going through a breakup.  Her boyfriend knew about her job when they started to date, but over time he could not handle it.
"It's very difficult.  You need to find somebody who's comfortable enough with themselves to realize that it's not cheating."
Parker feels that there are preconceived notions of cam girls.
"They think we all sleep around.  They think we are all giant whores," she says, noting that many aren't big partiers and are in committed relationships.
Parker says the job takes a thick skin, but suggests the job to young women who are stressed and struggling to pay the bills.
"If you are a strong-willed person with a good personality and you feel you have something to offer, totally go for it.  Big girls, little girls, any size, any shape, anything.  There is a niche for everybody."