Halifax designer offers 'eclectic,' affordable fashion
Local talent Conni Zafiris is recognized nationally for her designs and has plans to expand her brand.
November 15, 2013, 3:02 PM ADT
Last updated November 24, 2013, 5:43 PM ADT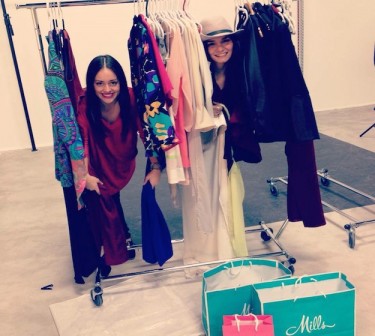 Local designer Conni Zafiris has been selling her clothes on Etsy.com for the last three years, with plans to change the pace and create her own website for her Zafira Apparel brand. But for now the Halifax native is focusing on having online success before tackling the task of having her own store.
That's coming a long way considering she dropped out of university to pursue her dreams and independently run her own business. She attended LaSalle College for three years in Montreal and enrolled herself in the fashion design program. She graduated this past May.
The 26-year-old's first line, "Second Chance Couture," was born in 2011.
Her current collection, Zafira Apparel, has 22 different looks. She's adding six more items for spring after feedback from her followers.
Her clothing is sold at Tea With Gladys in Oakville, ON and she collaborated with HIM boutique on Dresden Row in Halifax before it shut down. Her peplum dresses are currently in a Miami fashion boutique Dressed to Kill.
Zafira Apparel's tops, shorts and skirts range from prices of $45 to $80. Dresses range from $100 to $150, sometimes less.
Zafiris just started making accessories this year, including headpieces, headbands and flower crowns – unique accessories that can be difficult to find in a small city.
So far, working independently, Zafiris has earned around $10,000. She accomplished this while still finishing up school.
"Now I'm focusing on it full-time so I expect those numbers to massively increase when I launch my collection for sale in the spring," she says.
The designer says although a new website to sell her designs is a few months away, the blog that accompanies the site will be up within the month.
She's also hoping to host pop-up shops around various campuses in Halifax.
She says she sells quality clothing and she looks out for students when pricing her items, since they're her main customers.
"I oversee everything that is made. We do not compete with the prices of fast fashion brands like H&M and Forever 21 who manufacture overseas. But, we also do not intend to," says Zafiris.
She says all the clothes are made by hand or by sewing machine. Though she says once the website launches, she'll have a crew of four people helping her create new pieces to supply the account with inventory.
She says her brother, who's in the entrepreneur program at Dalhousie University, has made her attain more of a business-savvy eye.
"It just took seeing it from a creative angle for me to understand it," says Zafiris.
She says her favourite part of the job is bringing garments to life, "from sketching it and finding fabric, to making the pattern and then testing the sample. It's so rewarding seeing the end product," says Zafiris.
She's looking for students in fields such as public relations, photography and merchandising that can help her in different areas of the company.
But Zafiris is no stranger to success. Atlantic Fashion Week presented her 2014 spring and summer collection on Oct. 5, 2013.
And the young designer interned for local fashion designer Veronica MacIsaac.
Hannah Ghosn, Dalhousie student, works closely with the designer as her clothing photographer.
She says she fell in love with the experience and is now looking into a career as a journalist.
"As I got older, I was able to appreciate her work more," she says. "I love her stuff, and I think other people will too."
Hannah Goodman, a fashion major at NSCAD, says the clothes are targeted towards university students.
"The collection as a whole is eclectic enough that I don't have difficulty choosing a couple items I would wear."
Zafiris said it would have been an easy out if she went back to Montreal, "But instead I want to grow the industry here and hopefully (create) jobs."

Loading ...