Halifax to host AUS men's basketball championship
Mayor Mike Savage is named the honorary chair
January 24, 2013, 12:30 PM ADT
Last updated January 25, 2013, 10:08 AM ADT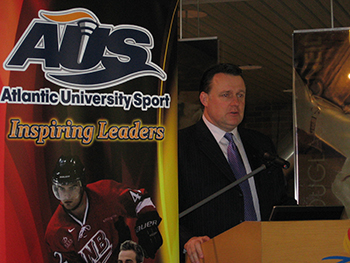 Halifax will, again, host the Atlantic University Sport Men's Basketball Championship. The league's executive director, Phil Currie, made the announcement at the Nova Scotia Sports Hall of Fame this afternoon.
The championship will feature Atlantic Canada's top six university men's basketball teams. The games will span from March 1 to March 3. The AUS championship team will then fly to Ottawa to compete in the national championships the following weekend.
Currie also announced this season's honorary chair will be Halifax Mayor Mike Savage. Currie said the optimism created from Mayor Mike Savage within Halifax was the major reason why they asked Savage to be the honorary chair.
As honorary chair, Savage will participate in the AUS awards banquet, opening ceremonies and help crown the weekend's champion.
"This is good for Halifax, this event is a great tradition," said Savage. "This championship is a pinnacle here in the basketball capital of Canada. I'm really excited to be a part of this."
There are 36 games left in the regular season before it wraps up on Feb. 23. Six of the league's eight teams will advance to the championship games being held at the Metro Centre.
Last year, Halifax hosted the Canadian Interuniversity Sport national championships, now held in Ottawa. Halifax has hosted the national championships for 26 non-consecutive years.
Musicians for the weekend were also announced: Ben Rutz, Dylan Guthro and Andrew Doyle will be performing over the weekend.
Package tickets for all five games are now on sale. Those will be available until Feb. 25, when single game tickets go on sale.