High levels of lead found in SMU water supply
Email warns SMU community not to drink water in McNally Building
January 24, 2014, 10:10 PM AST
Last updated January 24, 2014, 10:15 PM AST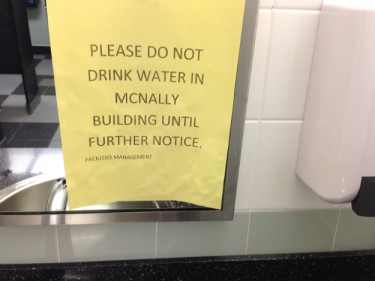 The water from a fountain in the McNally Building at Saint Mary's University is showing high levels of lead, according to an e-mail sent to students and staff on Thursday.
The water was tested after a student complained of smelling an odor from a water fountain in December, SMU communications officer Travis Smith says.
The McNally Building is an academic building that was built in 1952. Since the last test of this water source in 2008, the building underwent a $22.3 million renovation.
Smith says he believes the renovation was mainly technological and highlights an update to the WiFi system as part of the project.
However, an outline of the McNally Building renewal project on the Industry Canada website says that "the renovations included installing reduced water usage systems, such as low-flow toilets and automated taps," as well as a revamp to the electrical system and the switch to the usage of natural gas heat.
Smith says there is no way to tell how long the levels of lead in this water source have been high, but facilities management notes that the results of their last test in 2008 did not show high levels of lead.
The university is putting together a plan with Nova Scotia's department of health to deal with the issue, Smith says. It expects to receive more test results on Tuesday or Wednesday of next week.
The e-mail also says that when the testing is complete, the university community will be notified of the results.
Until that time, all affected water supply sources are shut down. There are also cautionary signs posted in washrooms warning users not to drink the water.
Health Canada warns that people exposed to lead for an extended period of time are at risk of developing a wide range of health effects, and exposure to even small amounts of lead can be harmful to a person's health. In particular, children and pregnant women can be at risk.