Infants' home to be preserved over winter
SMU to winterize building up for demolition
November 27, 2013, 2:50 PM AST
Last updated November 28, 2013, 5:47 PM AST
Saint Mary's University announced that it will winterize the Infants' Home on Tower Road.
"The building will be winterized while the engineering report and space requirement study are analysed," reads a statement that historical activists are excited about. The university said it "is continuing to review potential uses" for the property and will address "safety and security issues" in the meantime.
Members of the surrounding community feared Saint Mary's planned to demolish the building over the winter.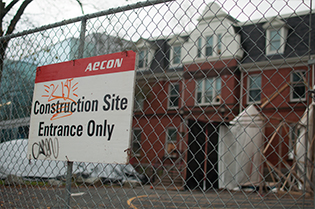 The university has a licence to demolish, but had been carrying out remedial work while it evaluated the building's integrity.
Students, members of the community and heritage activists met publicly early in November to oppose to the demolition plans. Over 60 people met to discuss action options in hopes of getting the attention of the Saint Mary's board of governors.
Peggy Walt runs a Facebook group dedicated to saving the Halifax Infants' Home. She relayed the message over the group early Wednesday.
"This is good news! We've bought some time, and thank you everyone for your letters and efforts!" she writes.
The university expects to finish remedial work by mid-December. Once completed, Saint Mary's will make a thorough evaluation of the structural integrity before it makes any more decisions.