Instant help for Dal's international students
The Dalhousie International Student Centre has a new web function designed for real-time communication.
February 4, 2014, 6:37 PM ADT
Last updated February 4, 2014, 6:37 PM ADT
With classes to juggle, jobs to maintain and places to explore, international students don't always have time to drop in at Dalhousie's International Student Centre when they need help with their study permits and visas. Now, students won't have to worry about calling or making an appointment between 8:30 a.m and 4:30 p.m, the centre's operating hours.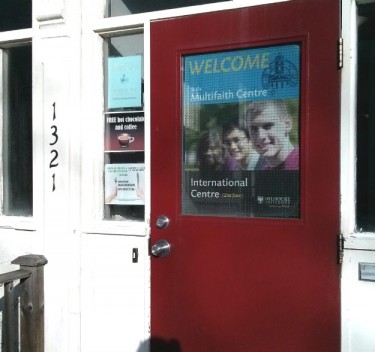 From Mondays to Fridays between 7-10 p.m, students can use the centre's livechat function on its website to get in touch with an adviser. The centre launched the service last week. Kay Balite, one of the centre's support specialists, says the new addition "opens up accessibility for everyone."
"Social media is already a huge thing in this generation. But the main [problem] is that you need an account. Not everyone has the same preferences," she says. The advising staff can't monitor every social network a student might use to communicate with them; with at least 2,400 international students studying at Dalhousie, not everyone's first social media choice is Facebook or Google Plus. Actually, Dalhousie's 1,107 Chinese students  are more likely to use Qzone, a Chinese social media website with 20 million users.
Prior to livechat, the quickest way to ask for help at the centre without making an appointment was to email. But it could take a few days for an adviser to email back, especially during a busy time of year. Right now, the function is still new, so only one adviser is working per night. But Balite says that if advisers start noticing increase in usage, the centre can get more advisers to help online.
Ding Fan, president of the Dalhousie Chinese Student and Scholars Association, says she's looking forward to using it.
"I think it is good for students and I would like to use it for sure," she said over a Facebook message. She says she'd use the livechat to ask general questions and to book appointments.
Students tend to approach the centre with questions about immigration, a subject that can be confusing and stressful when students have to navigate the federal bureaucracy themselves. Advisers also help students with taxes and housing. They can refer them to academic advising as well. If students are looking for financial support, they know where to go and they won't feel like they're alone.
With the federal government looking to double international students in Canada within the next decade, the livechat function can also help prospective students apply to Dalhousie. The centre can provide the right documents for visas and answer any questions a student might have about the campus.
The International Student Centre has a separate livechat for Canadian students looking to study abroad.